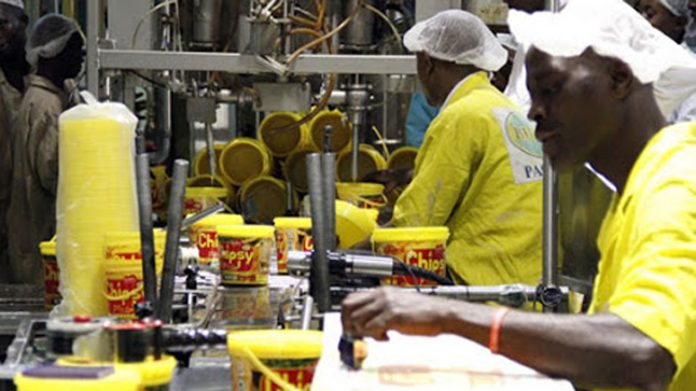 The Nigerian manufacturing landscape stands at a critical juncture, grappling with an array of formidable challenges that have significantly impacted its operations and profitability. Companies, not just within Nigeria's borders, but across the globe, have long contended with multifaceted obstacles that hinder their growth and resilience.
The manufacturing sector in Nigeria has been confronted with an intricate web of hindrances, encompassing factors such as soaring energy costs, an intricate tax framework, an influx of substandard goods, and recent economic shifts including the convergence of exchange rates and the removal of fuel subsidies. The situation has been exacerbated to a point where manufacturing firms, both large and small, are confronted with the dire choices of layoffs, downsizing, or even complete shutdowns.
The challenges are starkly evident in the disconcerting numbers. Mr. Femi Egbesola, President of the Association of Small Business Owners of Nigeria (ASBON), revealed a disheartening statistic – over seven million small businesses have shuttered their operations within the past two years. This wave of setbacks isn't confined to small enterprises; giants of the Nigerian corporate landscape, including Nigerian Breweries Plc, Guinness Nigeria, Dangote Cement, Airtel Nigeria, MTN, Lafarge Plc, and Cadbury Nigeria Plc, have reported substantial losses amounting to billions during the first half of 2023. The most recent blow was the departure of GlaxoSmithKline Nigeria (GSK) from the Nigerian market, marking the end of a 51-year legacy of pharmaceutical service to the nation.
Nigeria's aspiration to diversify its economic revenue streams beyond oil has been commendable. The nation has directed its focus toward non-oil sectors, spanning agriculture, manufacturing, pharmaceuticals, mining, and financial services. However, for this diversification to bear fruit, an environment conducive to business growth and prosperity is imperative, but this goal faces challenges stemming from recent economic dynamics.
Dr. Muda Yusuf, founder of the Centre for the Promotion of Private Enterprises (CPPE), acknowledges the tumultuous environment businesses have encountered in recent years. He points to structural impediments such as unreliable power supply for production and bottlenecks at ports as factors that have hampered the growth of local manufacturing. Dr. Yusuf highlights the significance of government interventions, emphasizing that the pledged support in areas like agriculture, transportation, manufacturing, and small businesses must be promptly executed to effect positive change.
Mr. Segun Ajayi-Kadir, Director-General of the Manufacturers Association of Nigeria (MAN), spotlights the critical need for a holistic approach to rejuvenating the manufacturing sector. He emphasizes the importance of prioritizing the allocation of foreign exchange to the productive sector, especially manufacturers requiring imports of essential raw materials and machinery. Ajayi-Kadir also calls for the effective implementation of the Eligible Customer Scheme to ensure power availability, efficient electronic call-up systems at ports to combat congestion, and strategic policies to tap into diaspora expertise and investment.
The path toward revitalizing Nigeria's manufacturing sector is not the sole responsibility of government institutions but a shared endeavor involving various stakeholders. President of the Lagos Chamber of Commerce and Industry (LCCI), Dr. Michael Olawale-Cole, underscores the importance of aiding manufacturers with subsidized inputs and increased forex allocation for critical imports. He emphasizes continuous enhancements in electricity supply, addressing distribution company profitability, and tackling fiscal leakages and corruption.
Despite the prevailing challenges, a ray of hope emerges. Dr. Olawale-Cole points to the positive outlook for the oil and gas sector in the third quarter, predicting a continued recovery in production levels. He urges governmental accountability through reductions in governance costs, strategic anti-corruption measures, and robust efforts to combat oil theft.
As Nigeria's manufacturing sector navigates the currents of adversity, it is clear that collaborative action, targeted policy interventions, and a steadfast commitment to innovation and resilience are essential to steering the ship toward a brighter economic horizon.