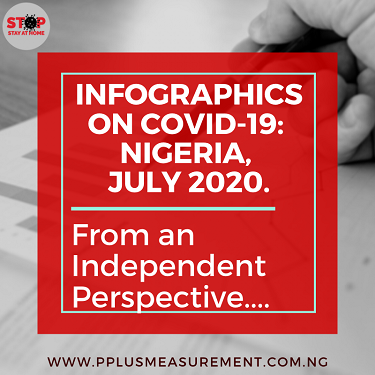 As the nation's economic and business activities are gradually shaping up, the rise in the number of cases has also been seen to be directly proportional to the increase in human and vehicular movements across the country. Amidst the reopening of various sectors and industries, the number of COVID-19 infections have continued its upward trajectory.
Data gathered from the website of Nigeria Centre for Disease Control (NCDC) showed that, the country recorded a total number of 17,457 new cases, 9,819 persons recovered and 289 deaths were recorded in the month of July. This shows an increase compared to 15,532 in number of confirmed cases, 6,739 discharged except the decline in number of deaths with 303 recorded in the month of June.
According to analysis by P+ Measurement in the month of July, the country witnessed the highest number of cases in week 3 and highest number of deaths in week 2.
Overall, the country has recorded 43,151 number of cases, 19,565 persons have been successfully discharged and 879 deaths as at 31st July with fears that the country has not gotten to its peak yet.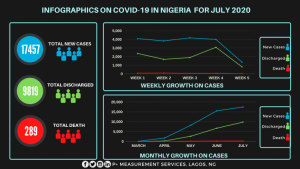 As the world continues to battle with the spread of the virus, a World Health Organization (WHO) expert, Mike Ryan (Head of WHO's emergencies programme) has revealed recently that the first use of COVID-19 vaccine cannot be expected until early 2021. He further stated that the UN health agency is working to ensure fair vaccine distribution, but in the meantime, it is key to suppress the virus' spread.
Meanwhile, in Nigeria, The federal government has added an additional one week to the current phase of eased lockdown due to the Sallah celebrations. The Secretary to the Government of the Federation, Boss Mustapha, stated this at the bi-weekly Presidential Task Force on COVID-19 briefing. He said the additional week will be effective from July 29 to August 6 and all existing protocols will be retained throughout this period.
Sources: Ncdc.gov.ng & Nairametrics.com