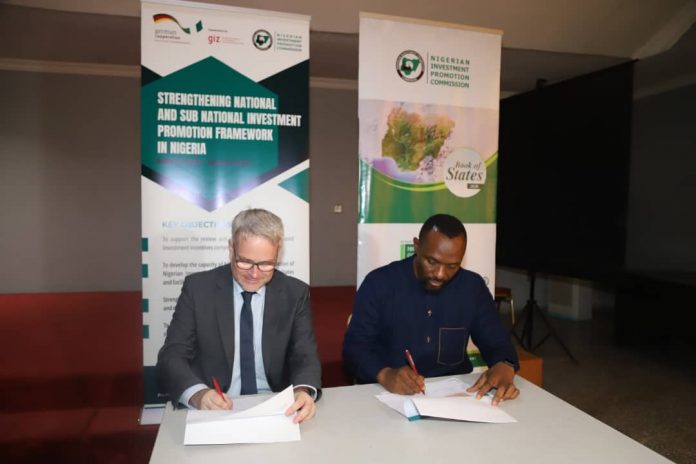 Working arrangement to support State Governments in achieving their investment targets.
Nigerian Investment Promotion Commission (NIPC) and the German Agency for International Corporation (GIZ)-SEDIN have signed a partnership arrangement, to jointly develop and implement measures aimed at improving the framework for promoting Nigeria's investment prospects at the National and sub-national level.
The signing ceremony which took place at NIPC's headquarters today had NIPC's acting Executive Secretary, Mr Emeka Offor sign on behalf of NIPC while Head of Programme at GIZ-SEDIN, Mr Markus Wauschkuhn signed for GIZ.
The partnership will have both organisations work together on a number of projects focused on packaging information on investment incentives across Nigeria, strengthening the subnational investment promotion infrastructure, and a continuous rollout of the Nigerian Investment Certification Programme for States (NICPS) across the 36 States in the country.
Other areas of partnership include in strengthening linkages and knowledge sharing between States and the Federal Government on investment climate improvement efforts, and hosting of the National Conference on Investment for States (NCIS), as a platform for policy engagements.
Speaking at the signing, Mr Emeka Offor stated that "at NIPC we understand that capital mobilisation is an all-inclusive activity that requires synergy among relevant organisations to create the platform for the interaction of investment opportunities with potential investors."
He also lauded GIZ as NIPC's long-standing partner. "NIPC and GIZ-SEDIN have collaborated in virtually every aspect of our mandate," he said.
This current collaboration is with a specific focus on SEDIN and the Nigeria Competitiveness Project (NICOP) focal states: Abia, Edo, Kaduna, Kano, Lagos, Ogun, Oyo and Plateau.
In his remarks, the Head of Programme, GIZ-SEDIN, Mr Markus Wauschkuhn expressed his support for the partnership, highlighting areas of collaboration between both organisations.
The collaboration between NIPC and GIZ is primed to support State Governments to be better equipped at promoting investment as well as initiating and supporting measures that will enhance the investment climate of the country.