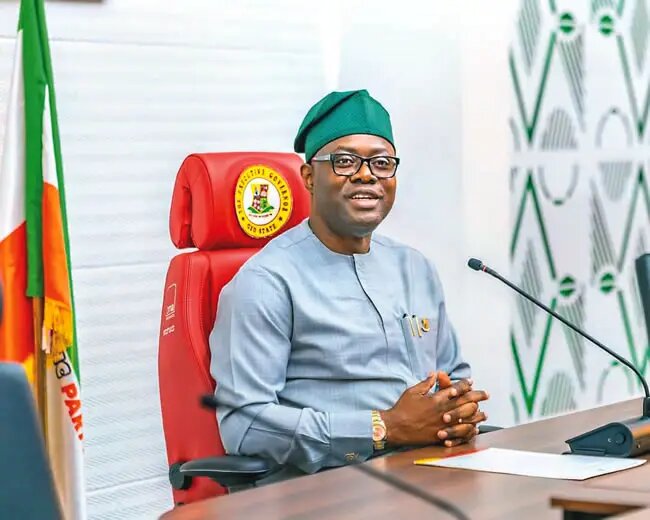 In a move demonstrating unwavering commitment to the welfare of its citizens, Seyi Makinde, the visionary governor of Oyo State, has unveiled an extensive array of palliative measures to cushion the reverberating impacts of the petrol subsidy removal and the mounting cost of living. Addressing the state in a televised broadcast on Saturday night, Governor Makinde unfolded a comprehensive plan of "short-term actions," ingeniously engineered to alleviate the multifaceted challenges arising from the removal of fuel subsidy and the resultant economic pressures endured by the people of the state.
Governor Makinde's pragmatic approach to confronting these challenges resonates as a beacon of hope. With the wisdom of extensive consultations, he has orchestrated measures designed to uplift Oyo State and its residents during these trying times. In his words, "Our decisions have been geared towards harnessing economic packages to ignite our economy and foster lasting progress."
Thus, the Oyo State government has charted an ambitious path, aptly christened "Sustainable Actions for Economic Recovery (SAfER)," wherein a series of comprehensive interventions will be enacted.
In line with the overarching goal of assisting the most vulnerable members of society, Governor Makinde elucidated, "Our SAfER package is poised to offer a softer landing for those struggling most amidst these economic shifts. This initiative also addresses the imperative for food security through direct interventions benefiting our farmers. Additionally, we will alleviate the transportation burdens of our esteemed civil servants and fellow residents across Oyo State."
The contours of these interventions are diverse and encompassing, demonstrating the government's dedication to providing comprehensive support. Makinde revealed, "Our updated social register now embraces an additional 200,000 individuals, specifically from the most economically challenged segments. Immediate food relief packages will be extended to these beneficiaries."
Further emphasizing the role of health in comprehensive welfare, Makinde stated, "For the most vulnerable households, we are instating health insurance coverage for 100,000 families. Under the Oyo State Health Insurance Agency (OYSHIA), we will pay their one-year health insurance premium. This endeavor aims to enable them to access quality healthcare without undue financial burden."
Makinde noted that the government would expand the Omituntun bus service to encompass inter-city routes, connecting Ibadan to various zones within Oyo State. This initiative aims to alleviate transportation costs for residents. He further revealed, "The fare rates will remain affordable, with senior citizens and students availing the services at half price."
The palliatives extend beyond citizens to vital sectors. Governor Makinde affirmed, "Farmers will receive inputs, bolstering support from the World Bank-assisted OYS-CARES program. Youth agropreneurs, who have ventured into businesses following training under the state's youth entrepreneurship in agribusiness project (YEAP), will benefit from enterprise support under the SAfER package."
With an eye on the backbone of the economy, Makinde's plan encompasses support for small businesses. He stated, "We have earmarked N500 million to aid small businesses with low-interest-rate loans, ensuring their sustainability. Traders, artisans, and other small business proprietors can apply for these loans through designated micro-finance banks."
In tandem with providing aid to businesses, Governor Makinde acknowledged the aspirations of students. "Tertiary institution students brandishing their school identity cards will board government buses at half fare," he said. Additionally, he expressed his intent to collaborate with student leaders to formulate supplementary measures to fortify the SAfER package for students.
Governor Makinde's comprehensive SAfER initiative radiates as a beacon of optimism, a testament to the government's commitment to shielding its citizens from economic turmoil and guiding Oyo State toward a resilient and prosperous future.