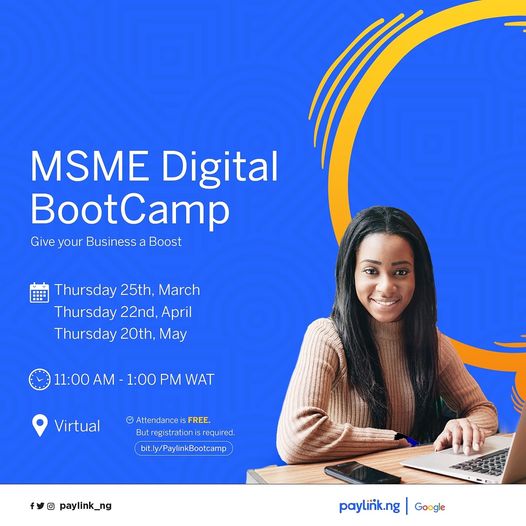 Paylink, in partnership with Google, is organising a series of online classes to empower you with the right set of digital strategy and tools to easily grow and scale your business.
The 2-hour daily session runs once a month, for 3 months, with each session focusing on key aspect of your business that are important in the MSME operator's  journey towards getting the most out of digital commerce.
The virtual Digital Business Bootcamp is for both online and offline merchants.
In partnership with Google, the MSME Digital Masterclass whose objective is skill acquisition would take place in three sessions:
Brand Building on March 25
Business Growth on April 22
Tools for Business Management on May 20
The Digital Business Bootcamp is expected to empower 10,000 MSMEs with digital skills and technology required to enjoy the ease, flexibility and opportunities necessary to thrive as enterprises.
Google has a standing commitment to help 500,000 SMEs grow and digitise their businesses with new tools, financial support, and trainings.
Don't be left out! Register for FREE HERE now.