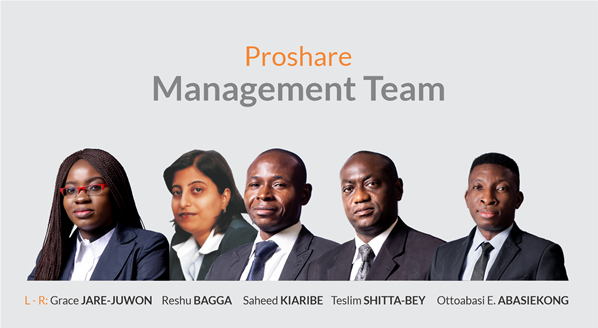 Proshare, Nigeria's Premier Financial Information hub today, as part of its fourteenth  (14th) anniversary announces the re-organisation of its leadership (as well as that of its subsidiary – WebTV Limited), as part of its transition to a financial hub that positions it for a "Tech Driven Information Market" equipped to deliver value for the new/different financial market designed for a capital, money and alternative market ecosystem.
Proshare seeks to take the current experience to another level that allows it to scale service for the benefit of the stakeholders.
The change envisaged, is premised on a rethinking, refocusing, and reimaging of the business environment with technology being at the heart of a new fit-for-purpose company we have become, one that is ready and able to meet the imperatives of tomorrow by Q2 '2021.
The past has been a brilliant journey, but the future is a fresh chapter of the organizational narrative that defines a commitment to corporate sustainability and independent financial market governance overview.
The new thrust will provide users of the platform a different feel and flavour with higher interactivity and stronger user sensitivity. Concerns about the founder issue was resolved in 2018 and the move today is an extension of the well-thought-out plan for a succession as well as repositioning for a market we can yet see.
Standing still when the waves of change come crashing down is what Proshare envisaged and sought to address via a hand-holding process that delivered a corporate rethinking, reimagining and re-strategizing approach now under the management of a team that understands the realities, requirements for success and responsibility for value creation.
In furtherance therefore, and effective from January 01, 2021, the Board has approved the appointment of a new management for Proshare as follows:
Grace Adejare-AJUWON – Managing Director 
Reshu BAGGA – Executive Director / Chief Technology Officer (CTO)
Saheed KIARIBE – Executive Director, Director of Data & Research
Teslim SHITTA-BEY – Executive Director / Chief Economist; and
Ottoabasi ABASIEKONG – Editorial Operations Manager for WebTV Limited (a subsidiary of Proshare Nigeria)
Speaking on these appointments, the Founder and Chairman of Proshare Nigeria, Mr. Olufemi AWOYEMI, expressed his confidence in the team he had the pleasure of working with prior to and during the transition period; which has demonstrated the necessary clarity in culture, conviction and corporate governance on the principal elements of what the firm was built upon to deliver that changed organisation envisaged.
On this premise, the corporate board of Proshare will comprise of:
Olufemi AWOYEMI, Non-Executive Chairman
Oladipo Ibrahim Dawodu, Non-Executive Director
Ayo TERIBA (Dr.), Independent Director
Reshu BAGGA, Executive Director
Grace 'JARE-AJUWON, Managing Director
Saheed KIARIBE, Executive Director
Teslim SHITTA-BEY, Executive Director
Jennifer Aburime, Company Secretary (Managing Partner, HeloryMore Solicitors)
What to Expect from Proshare
As the year 2020 runs to a slow and circumspect close, and 2021 is ushered in with cautious uneasiness, optimism and defiant resilience; Proshare will through its well-established research function publish the following reports:
The Third Edition of the Personal Finance Series on Insurance;
The Annual Nigerian Capital Market Report; and
Proshare Confidential Report on the megatrends that will shape 2021 as the year 2020 blinks to an end
Also, in 2021, Proshare will launch its Revamped Platform which would be AI and ML enabled with various features that would improve the optimization, usability and efficiency of its site, with interactive data analytics, content personalization and recommendation tools as well as an accelerated mode of processing text, visual and audio content.