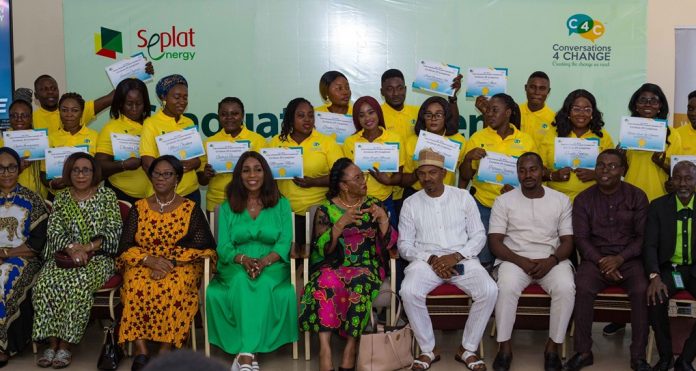 Seplat Energy Plc, in collaboration with Conversations for Change (C4C), has ignited the flames of entrepreneurship by empowering 22 aspiring business moguls through the dynamic 2022 C4C Global Entrepreneurship Fellowship Programme. This strategic partnership has harnessed the potential of these budding entrepreneurs, equipping them with the essential tools to manifest their business visions.
Following the culmination of the enlightening 2022 C4C Global Entrepreneurship Fellowship Programme, held at the illustrious Lux Terra Leadership and Training Centre in Abuja, the beneficiaries are now poised to embark on their entrepreneurial journeys with newfound vigor.
Dr. Chioma Nwachuku, the Director of External Affairs and Sustainability at Seplat Energy, conveyed her elation to the beneficiaries, recognizing their capacity to shape the future of their enterprises. Dr. Nwachuku emphasized, "Thanks to C4C and Seplat Energy for enriching you with the knowledge and competencies you need to grow your business. The greater appreciation and kudos, however, go to you, for having the capacity to establish your striving enterprise."
Lauding the transformational potential of the youth, Dr. Nwachuku added, "You are no longer the leaders of tomorrow; rather, with the empowerment you have received over the years, you are the change agents of your generation." Seplat Energy's commitment to shaping a brighter future is firmly rooted in the pillars of empowerment, aimed at addressing vital Sustainable Development Goals, including no poverty, zero hunger, and economic growth.
Acknowledging the symbiotic partnership between Seplat Energy and Conversations for Change, Dr. Kechi Ogbuagu, the President/Founder of C4C, expressed gratitude for Seplat Energy's consistent support in nurturing the youthful potential. Dr. Ogbuagu underscored C4C's unwavering commitment to the empowerment of the youth, a vision seamlessly aligned with Seplat Energy's profound impact on transforming lives.
The beneficiaries, brimming with gratitude, extended their heartfelt appreciation to Seplat Energy and C4C for the substantial investment in their future. The convergence of these visionary entities has not only imparted knowledge but also ignited dreams, paving the way for entrepreneurs to venture forth with confidence and tenacity.
As these young entrepreneurs embark on their respective paths, armed with newfound knowledge and the unwavering support of Seplat Energy and Conversations for Change, their endeavors will undoubtedly shape a more empowered and vibrant economic landscape. Through this partnership, dreams are not just born, but they are nurtured, cultivated, and primed to flourish.