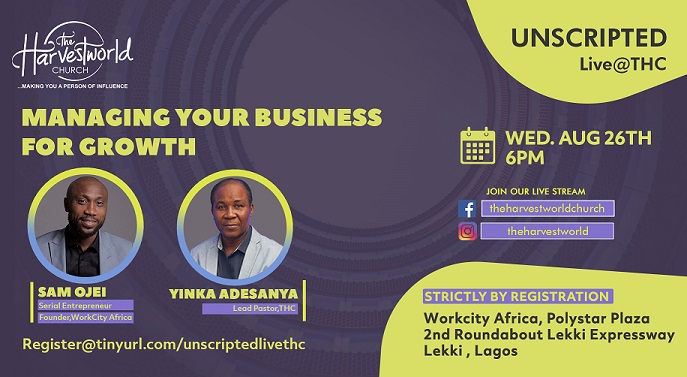 Unscripted Live births in the heart of Lekki, Lagos on Wednesday August 26th 2020, Unscripted Live is one of the top flagship platforms of The Harvestworld Church-THC, a 21st century church for urban dwellers with the sole assignment of making you a person of influence.
Unscripted Live is tailored to reach the urban dwellers in the city of Lagos, its environs and across the world with the sole aim of sharing experiences from notable achievers in the corporate world on how they overcame the odds. Unscripted Live commenced on Wednesday 5th July 2017 and Dr. Tonye Cole co-founder and executive director of Shara Group was on hand to break the ice as the first speaker.
At this groundbreaking edition in the heart of Lekki, Yinka Adesanya the Lead Pastor of THC, will host  Sam Ojei, a serial entrepreneur and the Founder of Workcity Africa, who will be on hand to shed light on how to manage your business for growth.
This program is billed to run between 6.00-7.30PM every last Wednesdays in the month and its specially designed to dissect everyday Real Issues, Real People and Real Solutions in an interactive manner in order to boost their daily living, elicit wholesomeness  (spiritual, emotional, financial, relational, etc.) and get direction critical to their aspirations in the market place.
Other notable speaker who have graced Unscripted Live are, Femi Adesina, Special Adviser on Media to President Muhammad Buhari, Toyin Sanni, Group Chief Executive Officer at Emerging Africa Group, Toyin Ibitoye, Super Eagles Media Officer and Seasoned Sports Analyst, Nkiru Olumide Ojo, Corporate General Manager Africa Regions Marketing & Communication Standard Bank Group, Helen Ese Emore International Facilitator, Businness Consultant for MSME founders in Agribusiness, Maribeth Olafioye , a UK based Business Transformation Expert and so on.
The Harvesrtworld Church-THC is located at No.171 Anthony-Gbagada Expressway, beside Ecobank, opposite UPS, Lagos, you can get more details on our website www.theharvesrtworld.org or call our direct lines 09079911127,09079911128