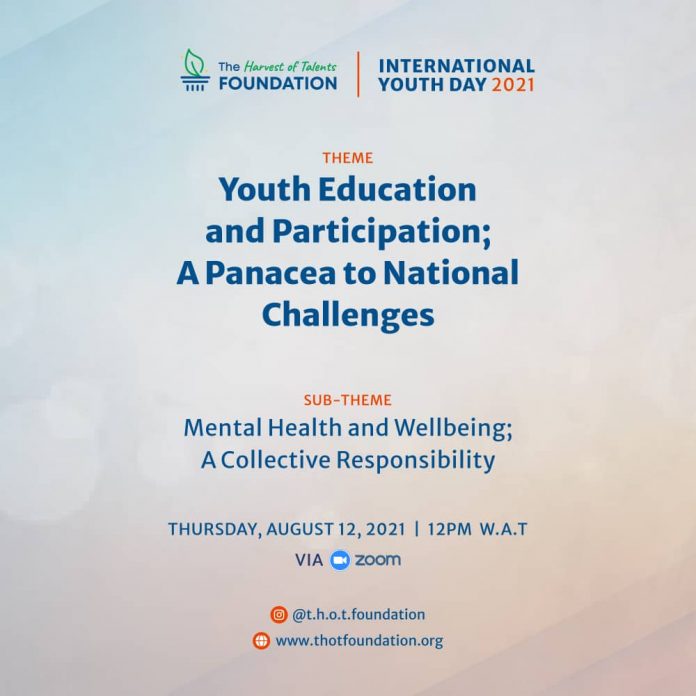 Tokunbo Wahab of Lagos State, Dr. Sheila Nutt of Harvard; Marika Guderian of UN World Food Programme, and others headline the International Youth Day organized by The Harvest of Talents Foundation
The Harvest of Talents Foundation Inc is set to host a webinar to commemorate International Youth Day which will take place on 12 August 2021. The webinar is themed, "Youth Education and Participation; A Panacea to National Development".
International Youth Day is an awareness day designated by the United Nations. The purpose of the day is to draw attention to a given set of cultural and legal issues surrounding youth. The first IYD was observed on 12 August 2000.
Speaking on the upcoming event, the Executive Director of the Foundation, Professor Ayo Omotayo made it known that there are going concerns about the involvement and participation of youngsters in the development of the country. It is crucial to awaken the national consciousness in the youths and equally train them towards being useful for themselves and humanity at large.
According to him, "this edition of the International Youth Day webinar will be focused on various age groups namely 14-19; 20-39 and 31-40. Each of these age groups would have varying sessions that will address their developmental and social needs. Some of the sub-themes are: Mental health and wellbeing a collective responsibility; Early Start: Imbibing productive characters; Social media, leadership participation and shaping public opinion; Food System and youth participation in delivering the SDG mandate; Shaping other adolescent's manner (as a young leader); Apprenticeship as Sacrifice: Learning the ropes and paying your dues and Innovation towards self-sustenance.
While unveiling the speakers at the upcoming event, the Founder of the Foundation, Mr. Rafiu Afolabi Laguda noted that Hon. Adetokunbo Wahab, the Special Adviser on Education, Lagos State Ministry of Education would declare the event open. While Dr. Sheila Nutt, former Director of Educational Outreach, Harvard Medical School will speak on the Main theme for the day. Other speakers at the breakout sessions would include Dr. Jubril Abdul Malik, Founder, AZIDO Foundation and Consultant Psychiatrist, University of Ibadan College of Medicine ; Mr. Ibrahim Hameed, ITS Leader Nigeria/Ghana, SANOFI; Marika Guderian, Deputy Head of Programme, United Nations World Food Programme; Mrs. Iwalola Akin Jimoh, Executive Secretary, Youth Empowerment Foundation; Mr. John Edwards, Executive Director, Bronx Campus, and College-Wide Career Development Initiatives, Metropolitan College of New York and Mr. Kayode Olowu, Founder / Creative Director, One Wild Card and Mr. Ibrahim Tiamiyu Founder/Chairman Plan B Group.
The Harvest of Talents Foundation (THOFT) is a foundation that provides a strong and stable environment for people to discover, grow, develop and maximize their talents. The foundation aims to create a future for economically disadvantaged and underserved youths; through the discovery and harnessing of their talents and also aims to establish a national consciousness on diversity in Nigeria by acknowledging this a lot of other challenges facing our nation can be resolved.