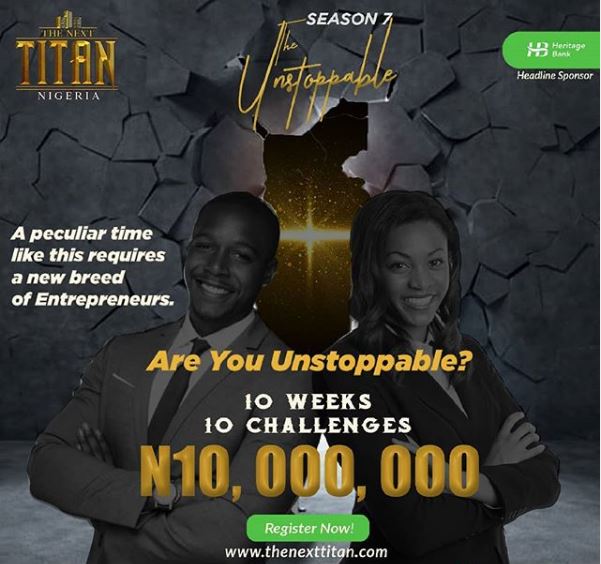 The Next Titan is back for the 7th season scouting for ambitious entrepreneurs seeking to demonstrate their entrepreneurial acumen with unbeatable business ideas, commercial insight and business savvy to stay out of eviction to win N10,000,000 and a brand-new car for the support of their business.
The TV Reality Show gives an opportunity to young talented Nigerians who have great and innovative business ideas to compete against one another in real-life entrepreneurial challenges in a bid to ultimately win Ten Million Naira to start their new business or to support their existing business
The theme of the Season 7 is 'The Unstoppable'. That is, the new Season is searching for business ideas that are immune to any pandemic, innovations that break boundaries, and technologies that can survive any lockdown.
It does not matter what the business idea is all about or its focus, but the business owner must be able to prove that the business has what it takes in terms of ideas or technologies to survive any future pandemic or lockdown.
The show is open for all Nigerians between the ages of 21 and 40, and designed as entertainment with thrilling and exciting format but its primary purpose is to change the mind-set of the people by awakening the entrepreneurial spirit of young Nigerians thereby accepting responsibility of being masters of their own destinies.
The reality show is a global standard television platform aimed at practically engineering entrepreneurship among Nigerian youths through identifying the best business minds and supporting their entrepreneurial acumen through financial and logistical assistance, informal training, knowledge and other requisite services needed to propel them into successful business personalities.
How it works:
Virtual auditions to be held this season
Top 50 Contestants from Auditions will have a Top 50 Online Bootcamp.
Followed by a Top 25 Physical Bootcamp to select the 16 Finalists.
Top 16 from the Bootcamp will make it to the house. They will live together for 10 weeks, battle one another over 10 tough business tasks, gradually eliminated until one winner remains.
The Winner goes home with N10,000,000.00
More details HERE
Register HERE