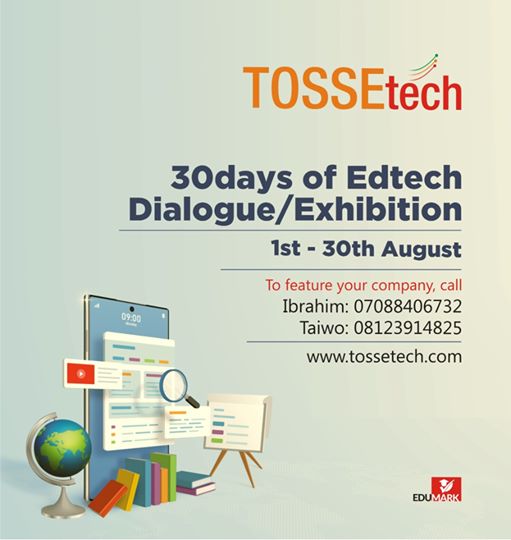 TOSSE tech is an offshoot of the Total School Support Seminar/Exhibition, Africa's biggest Education show.
TOSSEtech began at the Sheraton Hotels and Tower in 2018 with an event that provided leading Technology firms an opportunity to showcase innovative ideas to the Education Community.
The 30 days of EdTech Dialogue and Virtual exhibition will take place between August 1 and August 30,2020 on
TOSSEtech is organised annually by Edumark Consult- the organizer of Africa's biggest Education show – Total School Support Seminar/Exhibition
TOSSEtech is all about showing the best in the world of Education Technology to the education community. This is borne out of the need to ensure that every school has access to innovate ideas changing the world we live in.
The Virtual event will take place via virtual and social media platforms which include Zoom, Youtube, Instagram, Linkedin, Facebook, Instagram and others.
Tech innovators working within the Education space who desire to reach out to thousands of educators (school owners, administrators, teachers, consultants) and other stakeholders are encouraged to participate at the event.
Exhibitors will have opportunity to Reach out to the global Education Community, showcase their brands to Education leaders in Nigeria and beyond and tap into TOSSE's extensive network to achieve your marketing objective