Nigeria's leading bank, Union Bank will be rewarding small business owners, innovators, community organisers and indivuduals over a period of 4 weeks through The Rise Challenge.
 The challenge is being organized to inspire Nigerians to keep rising despite the difficult challenges of the times.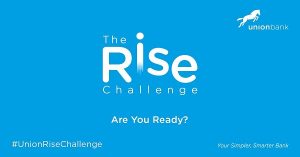 According to Union Bank "All over the world, the current pandemic has had unimaginable impact on people, communities, companies and economies.
"This is why we have come up with #TheRiseChallenge to shine the spotlight on you, our customers, who are doing all you can to rise above this pandemic. You are being innovative, charitable, creative and resourceful and we want to hear your story.
"Every week for the next 4 weeks, we will select 10 of the most inspiring stories to share and reward. If your story is selected, you will receive N250,000 Naira from Union Bank to support the work you are doing to RISE above the pandemic."
More details HERE