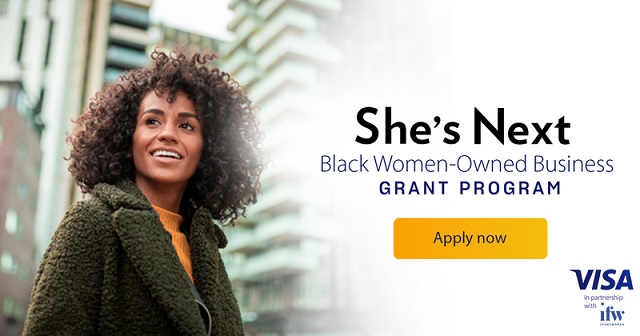 Applications are open through April 16, 2021
Visa is continuing to take action to help remove the disproportionate barriers faced by Black women-owned business founders by launching the She's Next Grant Program in partnership with IFundWomen to provide eligible black women-owned businesses across six (6) key cities in the U.S. the chance to win one of sixty (60) $10,000 grants and a one-year IFW Annual Coaching Membership.
While small businesses have faced a year of extreme setbacks & challenges during the pandemic, Black women entrepreneurs have been among the hardest hit – particularly when it comes to accessing the capital & resources needed to sustain and grow. That is why Visa is focused on providing this resilient & fast-growing segment of entrepreneurs with capital & coaching that will enable more Black women-owned small businesses to continue making an impact with their product or service.
Through this program launched on March 4, 2021, eligible entrepreneurs in Atlanta, Chicago, Detroit, Los Angeles, Miami, and Washington, D.C. can apply to be considered for a $10,000 grant + one-year IFundWomen Annual Coaching Membership.
Program Criteria
• Must be a Black women-owned business
• Business must be located and operating in Detroit, Los Angeles, Miami, Atlanta, Chicago, or Washington, D.C.
• Must have a minimum annual revenue of $24K or more
• Must have been in business for 2+ years
• Must be a business that has a product or service in market and generating revenue
• Must be a growing business
• Must be a consumer product or service (B2C)
• Must have a compelling digital presence and supporting media
If you do not meet these requirements, please fill out IFundWomen's Universal Grant application to be in the running for other IFundWomen grant opportunities.
Applications will be accepted through April 16, 2021.
HOT TIP: Within this application, you will be asked to provide imagery and a 60-second video that tells us more about your business. Your video must be provided in the form of a shareable link (Vimeo, YouTube, Dropbox, Google Drive, etc.). Please have these assets and/or video link ready before starting your application.
Get more details and apply HERE