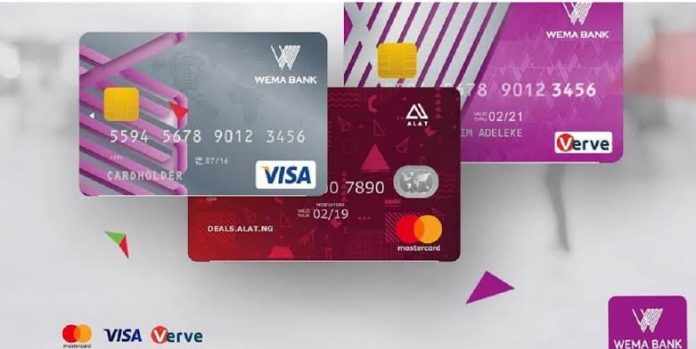 Lagos, Nigeria – Wema Bank has made a significant move in favor of its customers by resuming international transactions on its Naira cards, effective immediately. In addition, the bank has raised the monthly spending limit to $500, becoming the first Nigerian bank to take this step after the limit was reduced to $2 per month last year.
The circular sent to Wema Bank customers on Friday announced the exciting development, stating, "You can now use your Naira cards, including Mastercard, ALAT Mastercard, and Visa, for international spending. For your international transactions, you can enjoy up to $500 per month."
This positive change comes in the wake of reviews on monetary policies in the country, including the unification of all segments of the Nigerian forex market into the Investors & Exporters (I&E) window. Introduced in April 2017, the I&E window aims to encourage foreign direct investment (FDI) and enhance transparency in the FX market, allowing investors, exporters, and other participants to trade foreign currencies at market-determined exchange rates.
The recent regulations have bolstered the supply of foreign exchange in the country. For instance, the Central Bank of Nigeria recently lifted a three-year ban on Naira payouts for diaspora remittances, enabling the 62 approved International Money Transfer Operators (IMTOs) to pay recipients in Naira.
Furthermore, Access Bank and American fintech Remitly have partnered to allow customers to receive and deposit cash in Dollars in all Access Bank branches, making it available to both account and non-account holders. An instant domiciliary account is opened on receipt of remittance payment.
In the fintech space, Paga, a Nigerian fintech, has declared its readiness to collaborate with any remittance company seeking local partnerships. The CEO of Paga, Tayo Oviosu, emphasized the reliability and accessibility of their services in delivering remittances to any phone number or financial institution.
The suspension of international transactions by several Nigerian banks, including Wema Bank, last year due to foreign exchange pressure, had a significant impact on Nigerian residents who relied on their cards for digital transactions. With the restoration of international transactions by Wema Bank, many other banks are expected to follow suit in the coming weeks.
This move by Wema Bank is set to provide significant relief and convenience to its customers, enhancing their access to international transactions and facilitating seamless digital transactions on global platforms. As the banking landscape continues to evolve, Wema Bank's initiative is likely to set a positive precedent for other financial institutions in the country.