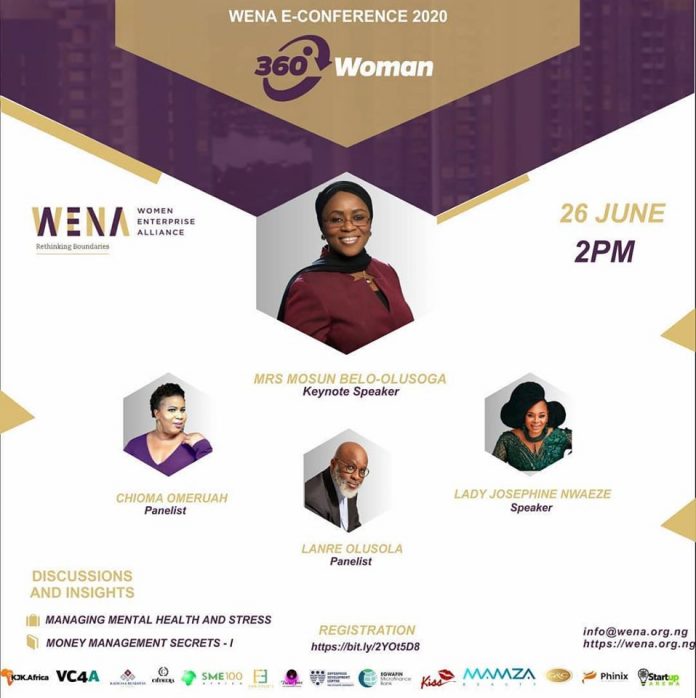 Women Enterprise Alliance (WenA) has announced that it's 2020 e-Conference  will take place on  June 26 and 27, 2020.
The two-day conference tagged "The 360⁰ Woman" aims to bring together leading industry experts to engage, upskill and inspire the next generation of successful young women entrepreneurs for – Progress, Productivity and Power.
The first day is set to feature insightful conversations ranging from achieving balance as a 360⁰ Woman to Managing Mental Health and Stress as well as Money Management Secrets.
The WenA e-Conference 2020 promises to be an important event for startups, tech leaders, and big brands at the forefront of innovation. Leading entrepreneurs from different fields and sectors will converge for 2-days of non-stop education, inspiration, and invaluable networking through keynote speaking, panel sessions and social events.
Featuring sought after speakers that you would love to listen to and learn from their vast wealth of knowledge and experience, to raffle draws and surprise treat from our partners and speakers, the conference is sure to be a groundbreaking one.
Keynote Speaker for the first day of the WenA e-Conference 2020 is Mrs. Mosun Belo-Olusoga – a notable leader in the Nigerian Financial Services Industry and an internationally recognized Credit and Risk Management specialist. Mrs. Mosun Belo-Olusoga is a former Board Chairman of Access Bank Plc. She also was formerly an Executive Director at Guaranty Trust Bank Plc, the Chairman of ELAN, Non-Executive Director of Asset & Resources Management, and Acting MD of Trust Bank for Africa
As a bonus for attending, a raffle draw will be held to select lucky entrepreneurs who will have the opportunity to engage in one-on-one mentorship sessions with the speakers, earn surprise outings and exciting opportunities, amazing gifts and lots more.
In addition to providing an insightful roadmap into the post-COVID-19 business world, the WenA e-Conference 2020 also presents the chance to learn from unconventional thinkers, acquire powerful new skills, obtain networking opportunities and go away with an all-new community of friends and supporters.
Women Enterprise Alliance (WenA) is a registered non-government organization whose mission is to produce world-class and diverse entrepreneurs that meet the needs of an ever-changing marketplace in Nigeria and across Africa.