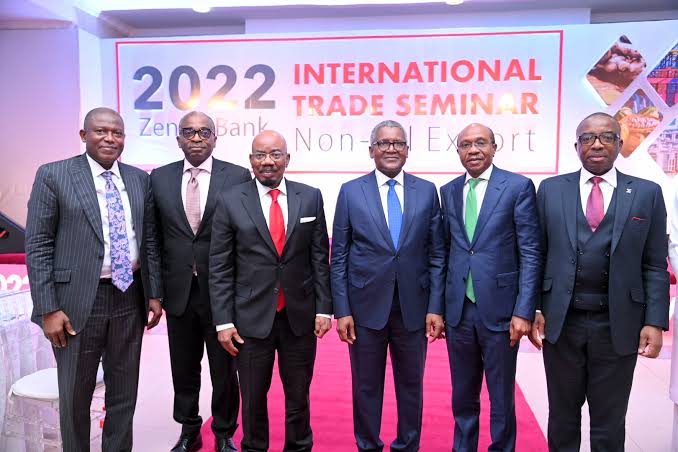 In order to boost the country's economy, bankers, manufacturers, and trade specialists, among others, have pushed for increasing non-oil export.
The Central Bank of Nigeria (CBN) Governor, Godwin Emefiele, founder and chairman of Zenith Bank Plc, Jim Ovia, president and chief executive of the Dangote Group, Aliko Dangote, and group managing director/CEO of Zenith Bank, Ebenezer Onyeagwu, made the call yesterday at the seventh Zenith Bank's International Trade Seminar.
Other speakers at the event held in Lagos and virtually, with theme: 'Unlocking Opportunities in Nigeria's Non-Oil Export Business' include Secretary- General, African Continental Free Trade Area (AfCFTA), Wamkele Mene and President/Chairman, African Export-Import Bank (Afreximbank), Prof. Benedict Oramah.
Ovia argued for the promotion of non-oil exports in order to diversify Nigeria's export base. He emphasized the value of non-oil exports to the national economy.
Before oil was discovered, he claimed that Nigeria had been exporting cocoa and other non-oil goods for years.
Ovia claimed that in order to produce tech behemoths like Apple, Tesla, and Google, Nigeria's non-oil export sector needed to be promoted through technology. As examples of financial technology success stories, he mentioned Flutherwave, OPay, Interswitch, Kuda, and Paystack, which have respective market valuations of $3 billion, $2 billion, $1 billion, $500 million, and $200 million.
According to Ovia, the most well-capitalized businesses are those that are involved in technological innovation, such as Apple, Microsoft, Alphabet (Google), Amazon, Tesla, and Visa, rather than the oil industry.
According to Onyeagwu, the annual conference provides a venue for expanding non-oil exports.
The purpose of the gathering, according to him, was to bring together government organizations and non-oil export practitioners to discuss opportunities and give answers to problems.
The decline in commodity prices from 2014 to 2016 was a turning point, Onyeagwu remarked.
According to him, "when crude oil prices plummeted from $114.55 per barrel in June 2014 to $28.76 in January 2016, with an attendant effect on the availability of foreign exchange, it was time to look towards the non-oil export sector for a more sustainable source of foreign exchange that is not susceptible to external shocks and price volatility.
Also, Emefiele commended Zenith Bank for organising the seminar to explore opportunities in the non-oil export and increase the non-oil export base and, ultimately, increase its share in the export sector.
"This is why the theme of this year's seminar "Unlocking Opportunities in Nigeria's Non-Oil Export Business" is timely and appropriate. This is because the global economy and structure are changing rapidly before our eyes.The previous world economic order underpinned by globalisation and seamless trade possibilities seems to be suffering major disruptions lately," he said.