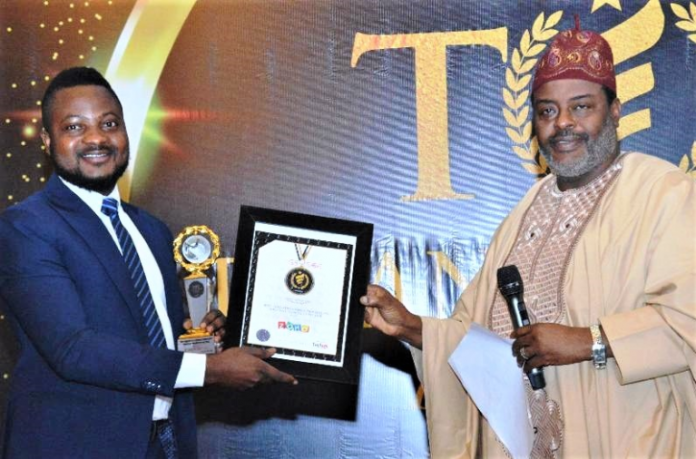 Leading multinational technology and web-based business tools solutions provider, Zoho Technologies, has clinhed the 'Most Innovative Business Productivity Solutions Provider of the Year' at the 18th edition of the Titans of Tech Awards.
According to the prestigious awards' organizers, key considerations for the Tech TV intelligence unit panel that chose the award winners included improving service and performance, enhancing customer service, overall quality of innovation and contribution to ICT advancement, originality and vision, digital transformation and service, market success/acceptance, and contribution to end-user quality-of-experience and service delivery.
During the four-month period, extensive information on KPIs, customer happiness, innovation, growth initiatives, and ethical practices was gathered.
At the award ceremony, which was attended by the former Executive Vice Chairman of the Nigerian Communications Commission and Chairman of MTN Nigeria, Engr Ernest Ndukwe, and the President of the Association Licensed Tel, Zoho Technologies was declared the overall winner among the other nominees for its tenacious efforts and impact on the Nigerian enterprise through the numerous innovative productivity business solutions that it had introduced into the Nigerian and African market.
Hon. Wahab Alawiye-King, Chairman, Lagos State Universal Basic Education Board (SUBEB), and Dean, Executive Chairman, SUBEBs in Nigeria presented the award, and Mr. Kehinde Ogundare, Country Manager for Zoho Technologies Nigeria, said it was the company's first honor from the nation's tech sector.
While expressing his gratitude to Titans of Tech for the honor, an overjoyed Ogundare stressed that Zoho is committed to offering useful solutions to startups and SMEs in Nigeria, and that the recent introduction of its digital solution, the Africa Digital Enabler, designed to support the digital transformation of small businesses in Nigeria, was evidence of this commitment.
Earlier at the Pan African Digital Initiatives Summit and Exhibition (PADISE), tagged as the most important technology innovation event in 2022, where he made ap presentation of the latest business productivity solutions from Zoho, Ogundare disclosed that Zoho Africa Digital Enabler package was developed to help small businesses with up to five employees jumpstart their digital journey.
He noted that the package will provide new users of Zoho a collection of 10 leading apps at a 50% discount starting from July 1, 2022, for a period of three months adding that the package comes with the Zoho Workplace which is a unified platform that brings together collaboration, productivity, and communications tools and integrates them into other business processes.
According to the Convener of the Titans of Tech Award, Don Pedro Aganbi, landmark achievements of Zoho necessitated the award.
He said that Zoho has been able grow its business in the country by 74%, adding that the opening of an office in Lagos and hiring more employees locally for customer-facing roles reveals its commitment to the Nigerian economy.