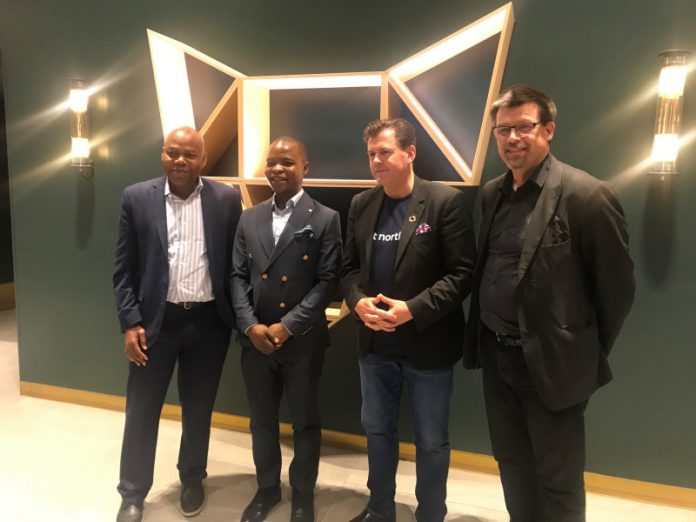 In a media release in May, the network had announced how it intends to deploy its Tech Spaces to connect the African continent to Europe.
On Thursday, experts from the United States, Africa, and Europe discussed the business opportunities that the latest communications and network technology, remote learning, work, and entrepreneurship from Africa can bring to U.S. companies during a panel discussion at Aalto University's 5G Summer School. 
These are opportunities for beneficial impact on African economies at the same time. Start North, a Finnish technological learning accelerator network, hosted the webinar.
One of the main topics discussed was how the 5G Mokki Tech Space network may benefit international businesses. In a press statement issued in May, the network detailed how it plans to use its Tech Spaces to connect Africa and Europe, fostering technology learning and adoption, remote employment, and entrepreneurship.
In addition to supporting education, jobs, and regional economic growth, the network aspires to use cutting-edge technology to combat climate change.
Rather than focusing on the African-European connection this time, the conversation focused on the potential of a Tech Space network for American businesses eager to seize fresh opportunities quickly.
The goal of this conversation was to showcase the many prospects and advantages of the 5G Mokki Tech Space network for international firms who hire tens of thousands of employees each year and undertake hundreds or thousands of innovation and technology projects.
The word 'mokki' comes from the Finnish word 'mökki,' which means 'cottage.' The cottage facilitates the use of fifth-generation (5G) mobile communication technologies in novel ways. Mokki uses previous-generation technology where 5G frequencies and networks are not yet available.
Mokki already delivers experience and know-how connected to the latest 5G technology and its application in various different sectors that are crucial for each region, regardless of the technology it runs on.
Mokki is a driving force behind the development of fixed and 5G networks in Africa's underserved areas.
One of the fastest and safest ways to grow areas is to invest in fixed networks, cutting-edge mobile technology, and renewable energy, all while deploying Mokkis to speed up education, work, and other services.
The panel discussion focused on the numerous advantages that multinational companies might gain from collaborating with the 5G Mokki Tech Space network.
Professor Leonard Wantchekon of Princeton University pointed to China and Asia as an example of a place that has enhanced economic growth and productivity in recent decades. Africa is the next continent, comparable to Asia, that will provide businesses with expertise and other resources. It is known for its natural resources and large young population.
We've learned the advantages of remote learning, labor, and business as a result of the Covid epidemic.
New resources can be swiftly made accessible to firms to help them build their businesses and boost regional economic growth by utilizing cutting-edge technology. This is aided by the 5G Mokki network.
Professor Wantchekon also founded the African School of Economics, which has campuses in Nigeria, Ivory Coast, and Benin and enrolls students from over 20 African countries.
He believes that 5G Mokki can help fund research activities and provide cutting-edge teaching materials to students across campuses.
Professor Marko Nieminen of Finland's Aalto University argues that cutting-edge network and communications technology, along with new energy and electrical solutions, creates entirely new prospects for exporting know-how, work, and business, even in underserved rural areas. Businesses will benefit from additional expertise and other resources as a result of this.
Professor Nieminen spoke about his research team's hands-on development efforts in Namibia and Zambia, where they developed electrical and energy systems as well as internet connections.
Villages have advanced to a new level of development in a short period of time. Aalto University, as a member of the Start North network, is now using the 5G Mokki network for research and education in order to facilitate and accelerate development.
Dr. Olatundun Adelegan, a Visiting Professor at Aalto University from Nigeria, presented research findings on what is limiting or impeding Africa's development.
She cited infrastructure deficiencies, low learning results, and bad internet connections as barriers to economic progress, as well as youth unemployment, the negative effects of climate change, and financial marginalization.
She went on to say that a strong information and technology network will foster innovation in education and entrepreneurship, as well as improve financial inclusion and adoption of digital financial services and mobile money among rural residents and facilitate trade.
Furthermore, strong internet and digital technology will mitigate the negative effects of climate change by providing early warning systems for extreme weather events (floods, droughts, storms, and heat waves); boosting agriculture yield with digital information on the onset of rainfall and sensors to monitor soil and plant conditions; minimizing post-harvest loss from farm-to-fork; and enhancing online nomadic education on adaptation techniques to minimize conflicts between farmers and consumers.
A strong information and technology network will help Sub-Saharan Africa's ability to generate new business and attract foreign corporations and investors greatly.
After spending seven years abroad, Mr. Boris Ngala, the founder and CEO of BB Incubator in Douala, Cameroon, and one of the co-founders of the 5G Mokki Tech Space network, returned home with a vision to reduce poverty through technology-driven solutions, entrepreneurial training, and business advice.
He jumped at the chance to promote a concept that connects young people in Africa to each other and to other continents when he heard about the 5G Mokki concept and its potential to expedite the learning and use of new technologies for the benefit of the region and its youth.
Young people who are hungry for knowledge, learning, work, and entrepreneurship will make a substantial contribution to the growth of local and worldwide company if advanced learning, technical development, and entrepreneurial conditions are provided to them.
He is also a co-founder of the 5G Mokki Tech Space network, which he co-founded recently. Every year, Ludique Works runs a number of game development and business acceleration programs across Africa. The 5G Mokki network expands game makers' commercial prospects dramatically.
Atte Leskinen, one of the driving forces behind Start North, Finland's technology learning accelerator network, and one of the creators of the 5G Mokki learning and technology environment, explained that 5G Mokki is a concept created by young people and developed in collaboration with experienced professionals.
The concept was tested and refined at an early level in major American colleges such as Stanford, UCLA, UC Berkeley, and USC, and has since been further developed in collaboration with premier universities and industries in Finland and the Nordic countries.
Mr Leskinen, on the other hand, stressed that the Mokki is merely a tool to help people learn and apply new technology faster.
The benefits to businesses, young people, and the long-term growth of areas and our planet are the most significant. Leskinen also applauds the collaboration with African colleges and business incubators, and asks Microsoft and universities like Princeton University to use the network to enhance their operations and global sustainability.
The webinar was moderated by Lars Ling, founder of CleanTech Region Impact Group. Mr Ling highlighted his particular interest in developing the new kind of education needed to promote sustainable development in the world.
He ended the panel with the notion that "all change starts with a change in an individual's own behavior."
For media inquiries, please contact: laura.marchiollo-rossi@apo-opa.com | lerato.chiyangwa@apo-opa.com.