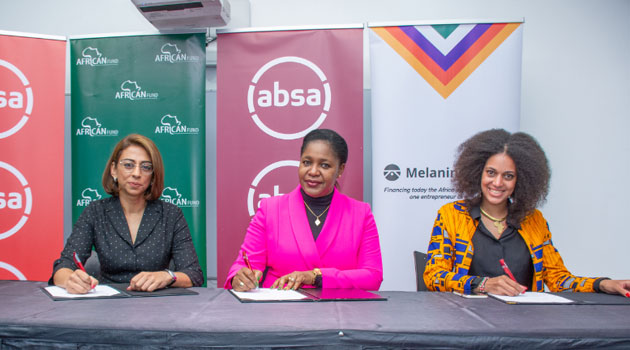 ABSA Bank Kenya in collaboration with financing platform, Melanin Kapital and the African Guarantee Fund (AGF) is set to avail access to finance for women-led SMEs by offering loans starting from Sh1million to scale their businesses.
In the initial phase of the joint program tagged 'TUUNGANE 2X Na Absa.', over 600 SMEs will be invited to go through the digital credit process and credit-readiness program facilitated by Melanin Kapital while applying for a loan from Absa Bank that will be guaranteed by the AGF.
According to ABSA Bank, for an SME to be eligible for the loans, it needs to be generating a turnover of over Sh1million annually.
In addition to financing, the program will provide these SMEs with sustainability training, capacity building, mentor matchmaking and networking activities to prepare them to get access to credit and grow their business sustainably.
"As a bank, we remain committed to fully supporting SMEs as they contend with unique financial constraints such as inflation, rising dollar rates and various global shocks that are affecting their operations and services," said Absa Bank's Business Banking Director Elizabeth Wasunna.
African Guarantee Fund's Group Director of Structured Finance Nishdeep Sethi said the unique partnership brings together four major types of entities with a common goal of impacting women SMEs.
"As the implementing partner of the Guarantee for Growth program under the Affirmative Finance Action for Women in Africa (AFAWA) initiative, AGF is very delighted to be part of this collaboration that goes a long way in enabling us meet our goal of bridging the gender financing gap in Africa," said Sethi.
"Our partnership with Absa Bank Kenya and Melanin Kapital will support women SMEs by not only unlocking financing but also providing technical assistance which are both two key pillars of the AFAWA program."
Melanie Keita, CEO of Melanin Kapital, stated that her team is still persuaded that creative collaborations between fintech companies and established financial institutions can increase funding for the most neglected areas.