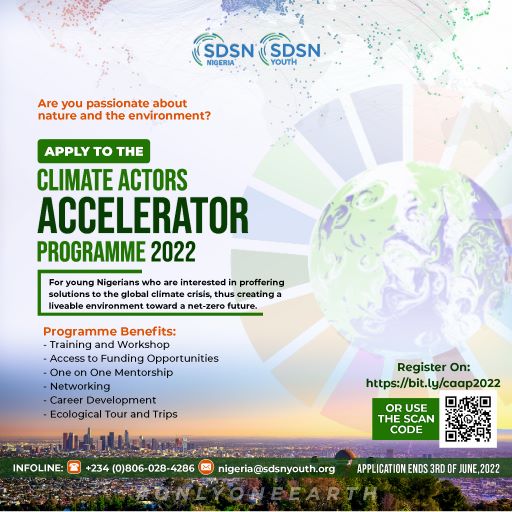 The 2022 Climate Actors Accelerator Programme is currently open for interested and qualified candidates, who are passionate about proffering solutions to the global climate crisis, thus creating a liveable environment toward a net-zero future.
Climate change is among the greatest threats to our generation and the generations to come, which is contributing to a rise in global hunger and threatening livelihoods. It's observed that many people are not aware of the relevance of safeguarding nature.
At UN SDSN Youth Nigeria, we believe that protecting nature is a collective action for every youth and we need to implement several transformative solutions to solve problems around climate change, nature and biodiversity loss, waste and pollution thus attaining net-zero emissions by 2050. We must shift from harming the planet to healing it.
The goal of this programme is to develop a network of young talents that would pioneer transformative solutions to restore and protect our planet and ecosystem.
We believe these solutions would address the critical issues of climate change mitigation and adaptation, promotion of our natural and cultural heritage, biodiversity conservation, waste and pollution, and responsible production and consumption, to make our environment and human settlements inclusive, resilient and sustainable.
ELIGIBILITY CRITERIA:
To participate in CAAP 2022, please note the following criteria before proceeding with your application:
– Applicants must be Nigerian between the ages of 18 – 35 years.
– Ability to commit at least 4 hours per week throughout the programme.
– Availability to partake in both virtual and physical training.
– Have a new idea of a solution or a validated, working prototype that addresses climate and environmental issues.
– Applicants must be acquainted with the knowledge of the SDG 2030 and the Paris Agreement.
SCHEDULE & MODE OF EVENT:
Interested applicants are to apply through the link:  bit.ly/caap2022
The 1st cohort of 2022 Climate Actors Accelerator Programme will be conducted entirely online.
Application closes 3rd of June 2022, 9:00 PM WAT
BENEFITS FOR PARTICIPANTS
Access to Funding Opportunities
One on One Mentorship
Networking
Leadership and Career Development
Ecological Tour and Trips
Access to International Trainings and Workshops
Certification
For inquiry, applicant should send an email to nigeria@sdsnyouth.org