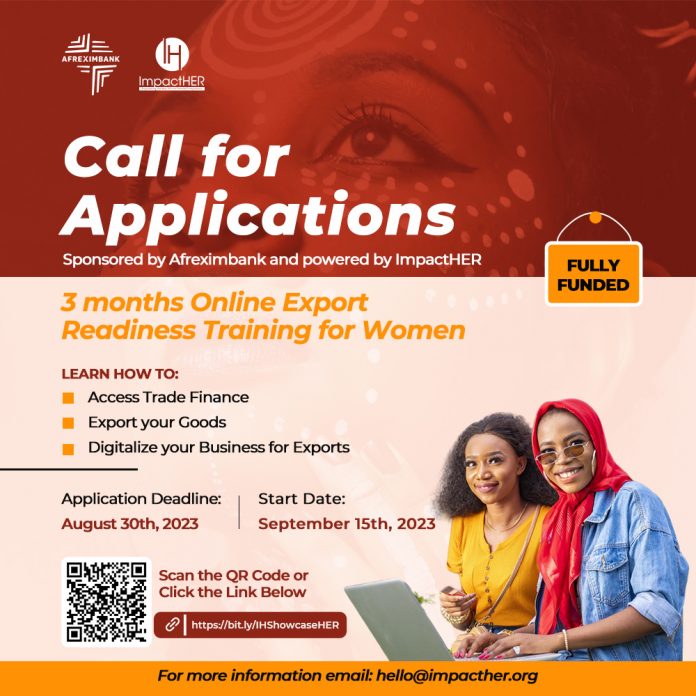 Applications are now open for Afreximbank and ImpactHER's Online Export Readiness
Training Program. This is a fully funded initiative sponsored by Afreximbank, that promises
to transform your business journey! Designed uniquely for women business owners in
Africa, this dynamic 3-months training program equips you with the requisite skills to
conquer the international market.
This comprehensive 3-months online training program encompasses three transformative
stages:
● Export Readiness Training
● Digital Literacy Training
● Trade Finance and Export Mentorship Support Throughout the 3 Months Duration
Program Benefits:
● Gain knowledge on exports, digital skills, and how to access finance for your business.
● Certification: Receive a prestigious certificate upon program completion (participants
need to attend 80% of the training courses to be eligible for certificates).
● Digital Mastery: Thrive in the digital age with newfound skills.
● Personalized Mentorship: Make informed decisions with tailored mentorship.
● Fully Funded: Enjoy a fully funded program sponsored by AfreximBank, and powered
by ImpactHER.
● Network: Connect with like-minded entrepreneurs and foster valuable partnerships
and cross-border collaborations.
Eligibility Criteria
● Applicants must be African women.
● Applicants must be operating a registered business.
● Applicants must be seeking capital for business expansion and international trade
Applicants must have access to a stable internet connection and a device for seamless
participation.
The theme of this program, ShowcaseHER, resonates with our commitment to bringing the
world market to African Women-led Small and Medium-Sized Enterprises ("WSMEs"). Join
us as we guide you to seamlessly integrate into international export value chains and
harness the diverse opportunities presented by the African Continental Free Trade Area
(AfCFTA).
Deadline: August 30, 2023.
The program will commence on the 15th of
September 2023.
Click HERE to Apply!