Deadline: July 29, 2022
Pitch AgriHack is a digital agriculture competition focused on accelerating entrepreneurial growth and job creation in the agriculture sector by leveraging advanced technologies and youth participation in Africa's food security agenda.
This is the sixth edition of Propose AgriHack, which allows African firms to pitch their strategy to drive agricultural technological innovation. The competition, which is funded by global development organization Heifer International, will be hosted by Generation Africa, a thematic platform of the AGRF.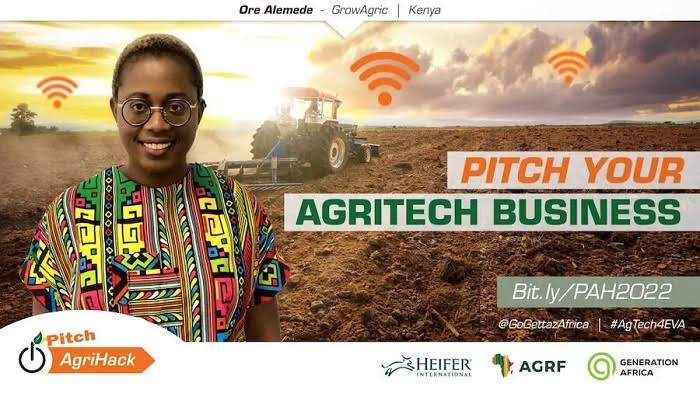 What are the benefits? 
(1) The open competition portion of Pitch AgriHack 2022 will support companies that are driving innovation in agriculture across three categories with prizes totaling US$45,000.
(2) A fourth invite-only category, known as the AYuTe Africa Challenge, sponsored by Heifer International, will award up to US$1.5 million in grants to scalable ventures that are already generating measurable impact for Africa's smallholder farmers.
(3) Top contestants will receive a one-day boot camp in preparation for their final pitches, with winners receiving continued support as they develop and grow their enterprises.
(4) Business profiles of the finalists will also be published in a Deal Book for circulation at the AGRF and online, while individual profiles will be made public on the genafrica.org platform and reviewed for relevance to their investor community.
Who is eligible? 
Candidates at
(1) Early-stage,
(2) Growth-stage,
(3) Women-led AgTech companies with innovative solutions impacting smallholder farmers at scale.
What are the requirements? 
A clear and defined description on how their solution is impacting small holder farmers
Strong organizational and operational structure
The applicant applying must:
be aged 18-40 on the day of submission to the 2022 Pitch AgriHack Competition
hold nationality (with official ID) from any of the 54 nations of the African Union
be the founder/co-founder of the enterprise represented in the competition and play an active role in its operations and leadership
have no criminal record related to corruption, tax evasion, financial impropriety, felony or other offences
Not be a previous Pitch AgriHack finalist or winner
must submit the application form in English
must agree with the Terms & Conditions.
Deadline: July 29, 2022
Click HERE to apply.