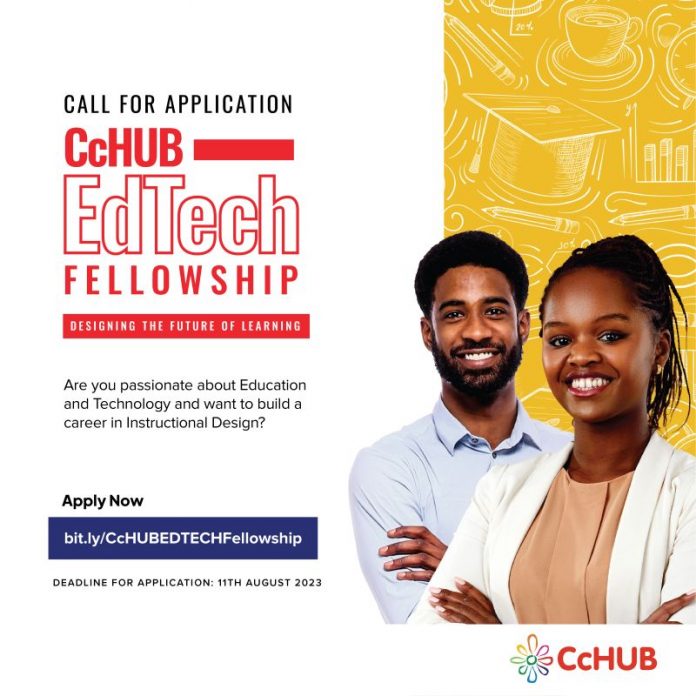 Are you eager to make a meaningful impact in the field of education? Do you have a creative flair for designing engaging and effective learning experiences? If so, CcHUB EdTech has an exciting opportunity for you! They are thrilled to announce the launch of the CcHUB EdTech Fellowship, designed specifically for aspiring Instructional Designers who want to revolutionize education through innovative technology and pedagogy.
About the CcHUB Edtech Fellowship
The CcHUB Edtech Fellowship is open for entry to mid-level professionals seeking to gain practical skills and experience in Instructional Design and support in the development of quality edtech products and solutions. The fellowship offers a structured learning environment, mentorship, and the opportunity to make a meaningful impact on education.
Benefits
For 3 months, fellows in this program will be trained in diverse skills covering areas such as Learning Theories, Curriculum Design and Development, Teaching Methodologies as well as Assessment and Evaluation strategies, and upon graduation be seconded to Edtech Companies within CcHUB's portfolio.
Eligibility
This Fellowship is fully Physical and open to only applicants willing to commit to both the 3 months of learning and the initial 21 months of support to designated Edtech Companies.