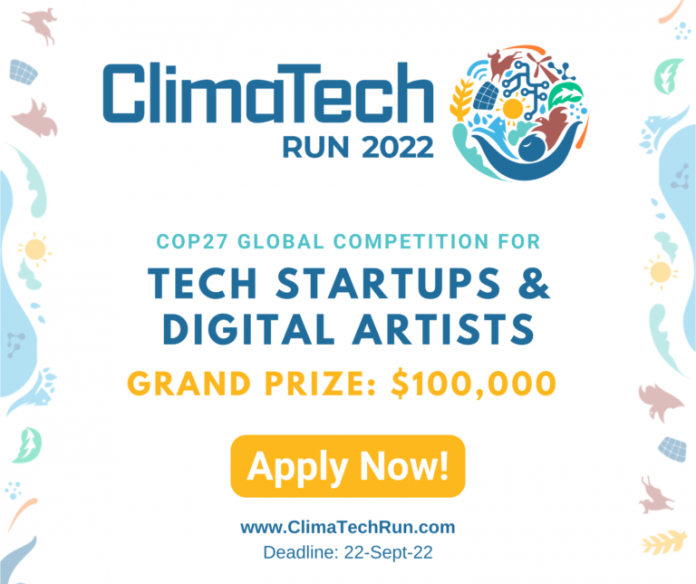 ClimaTech Run is a global multi-stage programme for tech entrepreneurs and digital artists who share a collective passion for sustainability and a better future for all.
The goal of this program is to form a collaboration with innovators in building a global ecosystem that sparks inspiration and innovation in climate action.
Who can apply? 
Individuals that have innovative tech-based solutions for a sustainable environment in food security, renewable energy, agriculture, water management, urban sustainability, and transportation or any new application of ICT in climate action.
Selection Criteria for Startups
✓ Innovation: The solution should be innovative, and has a deep and novel technological aspect.
✓ Team & Skills: The startup should have a solid team with diverse experience and knowledge and gender balance.
✓ Feasibility: The startup will be assessed on its business model, value proposition, competitiveness and scalability.
✓ Clarity: The ideas should be presented and approached in a clear manner.
✓ Impact: The solution should have a socio-economic and environmental impact.
✓ Investment: The startup should have a clear business and financial plan with indicative sources of funds and key investment risks and trajectories.
Eligibility Criteria for Tech Startups
✓ Registered Startup operating for 2 years
✓ Team of at least 2 members, with member's average under 40
✓ Sustainably driven & innovative business supported by an emerging technology
✓ Team has good communication skills and can present their startup in English
✓ Not a spin-off or subsidiary of an existing company
✓ Has a functional prototype or MVP (minimum viable product)
✓ Team has good communication skills and can present their startup in English
Benefits
✓ Grand Prize of $100,000
✓ Pitch your idea at COP27
✓ Be Part of the ClimaTech Global Network Programme
Deadline: September 22, 2022