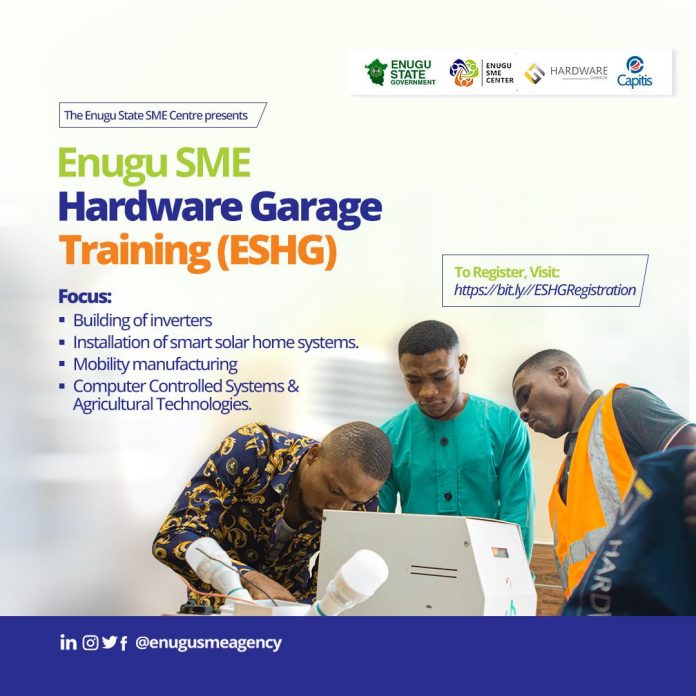 The Enugu State Government through the Enugu SME Center is focused on maximizing human capital development through provision of credit, "delivering training to increase people's skills enabling them to find jobs; creating jobs to improve incomes."
Hence, the launch of the CyberLearn Fellowship, Enugu CyberSecurity Learning Program, powered by the Enugu SME Center in partnership with the Hardware Garage and Capitis Global Ventures Limited.
Through the localization of technologies, we wish to create a new generation of trained personnel to revive manufacturing in Enugu. Training sessions will be comprised of both activities and lectures that will cover Industry based Field Services(Solar Energy services, Electrical Wiring, CCTV and Home Automation) and Design and fabrication of Professional Electronic equipment.
What is the duration of the training? 
ESHG is intended to go on for Three (3) Months after which only outstanding beneficiaries will be placed on internships.
How much is the ESHG Program? 
The ESHG is priced at N40,000 (Forty Thousand Naira Only). This has been subsidized heavily by the Enugu SME Center and its partners Capitis Global Ventures Ltd. and Hardware Garage from the original price of N150,000 (One Hundred and Fifty Thousand Naira Only) as provided by Hardware Garage.
These loans are offered at ZERO INTEREST. Successful applicant can access the Human Capital Development Loan from The Enugu SME Agency, to be repaid five (5) month after the training. This is an effective loan tenor of Eight (8) months, inclusive of the training period of three (3) months.
This equates to N5,000 (Five Thousand Naira Only) a month.
To register and know more, click HERE.