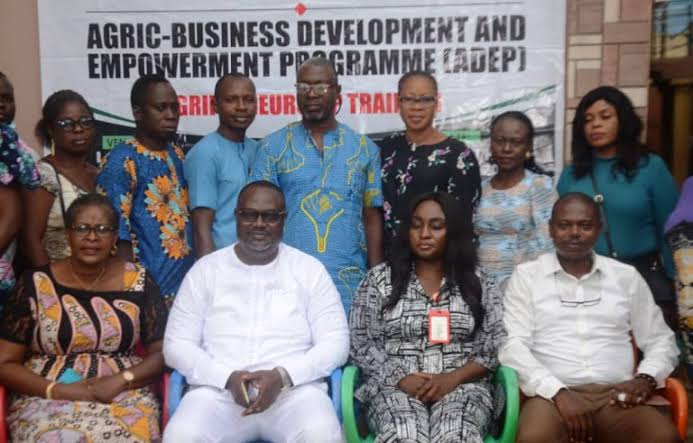 The Small and Medium Enterprises Development Agency of Nigeria (SMEDAN) has commenced empowerment of 150 farmers in Lagos on dynamic ways to attract customers to shore up profitability across the agricultural value chain.
The News Agency of Nigeria (NAN) reports that the five-day sensitisation programme by the agency was themed: Agric-Business Development and Empowerment Programme (ADEP).
Lagos State Manager, SMEDAN, Mr Bunmi Kole-Dawodu, urged the participants to evolve and embrace modern techniques to achieve more within a little time frame.
He said that SMEDAN had partnered the Lagos State Government Ministry of Commerce, Industry and Cooperative and Ministry of Agriculture which gave them 18 groups of cooperatives.
He added that the agency was working to provide equipment based on their requirements to improve their operations.
"This training was fashioned out by the agency and it aims to build capacity, after which participants would be equipped.
"There are four components of ADEP such as selection, sensitisation, capacity building and distribution of equipments.
"The ADEP programme is to provide functional knowledge, skills on how to operate and start an existing agricultural value chain cooperative.
"We are coming back to engage them on business service development to find out how impactful the sensitisation was," he said.
The Head of Business Development, Zetamind Consulting Limited, Mr Okechukwu Anidebe, emphasised the need for famers to adopt innovation and technology to better manage their operations.
Anidebe said that there was a need for farmers to embrace the use of Microsoft software services tailored to add value to the various agricultural value chain.
He stated that finance was the pillar of any business and urged them to keep proper records of their operations to enable them qualify during future evaluation of their performance.
A famer, Mr Kola Ositimehin, said that the training afforded him the opportunity to better understand the importance of record keeping of seeds, species and other things which would help in the calculation of profit and losses.
An aquaculturist with 10 years experience, Mr Wale Ogunsanwo, made a call for more enlightenment to enable them improve their operations and attract foreign market.
Another aquaculturist, Mrs Ifedolapo Fajimi, lauded the agency for its efforts in inculcating social media and technology skills to enable them do their farming more properly and build more network for customers.