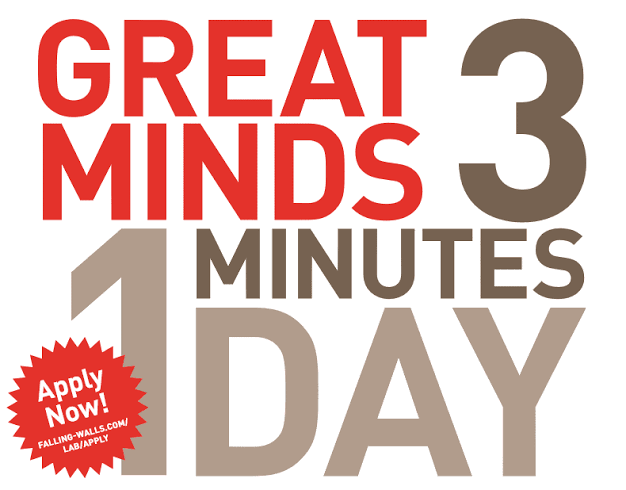 Deadline: July 15, 2022.
Falling Walls Lab is a world-class pitch competition, networking forum, and stepping stone that brings together a diverse and interdisciplinary pool of students and early-career professionals by providing a stage for breakthrough ideas both globally and locally.
Who Is Eligible? 
Students and early-career professionals of all disciplines.
To participate, you must meet the following:
Be at least 18 years old
If you hold a Bachelor's degree, it should not date back more than 10 years
If you hold a Master's degree, it should not date back more than 7 years
If you hold a PhD, it should not date back more than 5 years
Postdocs and students currently enrolled at a university or at the research institutions are also eligible to apply
If you have presented at Falling Walls Lab in recent years, we would love to welcome you to the audience!
How will entries be evaluated?
The jury will evaluate your presentation based on the following criteria:
Breakthrough factor: How innovative is the proposed idea?
Relevance/Impact: How relevant is the idea to the discipline and beyond?
Structure/Performance: How convincing was the presentation?
How do I apply?
1. Register on the Falling Walls Lab Zimbabwe submissions call page. In your entry, it is important to state the final title of your presentation.
2. Send us a short BIO (+/- 150 words) together with your headshot. All materials will be published on our website and social media platforms, and may be used for marketing this or future events.
3. Download brief instructions of the Lab and presentation template mentioned above.
4. Send us your final presentation on or before 15 July 2022.
To apply, click HERE.