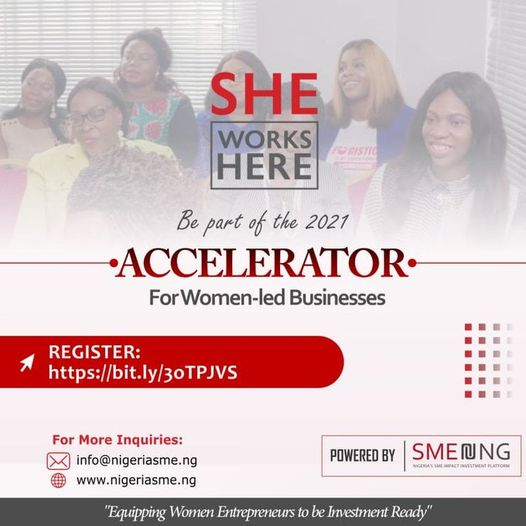 She Works Here is an all-women's Accelerator that provides women entrepreneurs with pre-investment readiness support needed to accelerate the growth of their businesses and connects them to SME.NG's impact funds.
Women entrepreneurs in Africa face a credit gap of $42 billion relative to their male counterparts, according to the African Development Bank. This gap has created an economic ceiling for female owned businesses. The financing constraint is further exacerbated by the lack of adequate business training to manage and scale women-led enterprises. She Works Here is specifically created by SME.NG to address these problems. From decades of experience in philanthropy, impact investing and investment management alongside an in-depth understanding of the challenges of women entrepreneurs, the founders of SME.NG have designed She Works Here as a bespoke "all women accelerator" that will focus on building the business capacity of women entrepreneurs and giving them access to investors and funders.
She Works Here was created by SME.NG as a bespoke 'all women' accelerator. It is set up to:
Support women owned businesses to become investment ready and accelerate their growth
Help women founders acquire entrepreneurial competencies
Help women led start-ups acquire seed funding and investment
Provide support services tailored to women needs (e.g creche, salon)
Link women entrepreneurs to a network of mentors
Improve the overall survival chance of women led businesses
Provide support services for women, e.g. creche, store, hairdresser
Provide overall chance of surviving
Who can apply?
Applications are welcome from Nigerian based women entrepreneurs across all sectors that fall under the categories:
– Quasi micro and micro women owned businesses
– Top Tier women owned businesses
Accelerator Benefits:
– Coaching, Mentoring and Peer-to-Peer Learning
– Exposure to other Investors
– Connection to Financing
How to apply
To join the She Works Here Community of successful women owned businesses, simply send your Name, Business Name, Business Location, Profile of Business and Contact Details to info@nigeriasme.ng
Kindly click this link to register: https://bit.ly/3oTPJVS