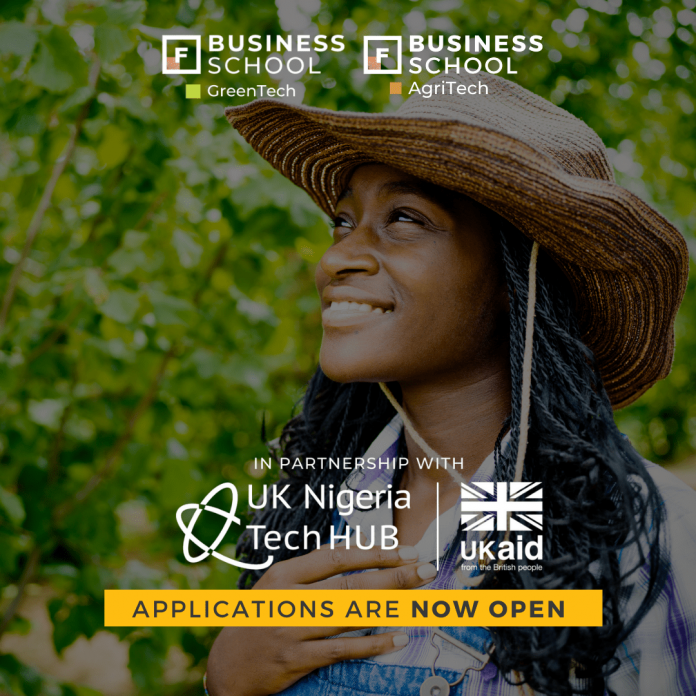 The Future Females Business School Joint GreenTech and AgriTech Programme, in partnership with the UK-Nigeria Tech Hub have opened applications for its programme.
The three-month programme is for female entrepreneurs with a GreenTech or AgriTech idea or early-stage business, ready to upskill and utilise technology to bring their businesses to life.
Are you a Nigerian female entrepreneur looking to develop the next big GreenTech or AgriTech business?
Are you passionate about technology and sustainability and looking to build a business that would create a positive social impact and benefit your community?
Then this programme is for you! It's been designed to give you the clarity, vision and ability to focus and execute the right strategies, that will build your thriving tech-enabled dream business.
The programme supports founders who are already working on GreenTech or AgriTech solutions and are ready to upskill and utilise technology to sustainably grow their businesses and create impact.
Applicant Requirements:
– Applicants MUST be based in Nigeria
– The business MUST be a GreenTech OR AgriTech business that solves a problem
– The business MUST impact respective communities/industries
Qualifying startups include:
Waste Management
Generation of power and alternative energy
Green Construction
Water management (harvesting, filtering/treatment, and metering)
Organic produce & retail
Circular economy
Eco-friendly fashion,beauty or cleaning products
Upcycling furniture
Food plant nursery and such other industries.
Farmer's markets (online and community based)
Organic produce & retail
Green Packaging of agricultural products
Integrative medicine (Herbal/plant-based remedy)
Permaculture and food forests
Conservation Agriculture (CA)
LED containerised farming
Rooftop growing and vertical farming
Harvesting and Harnessing Rainwater
Drones/robots for aerial images & GPS technology
Temperature and moisture sensors
Farming with fungus
 Algorithmic Agriculture
Value Addition and food preservation
Program begins August 19th, 2022