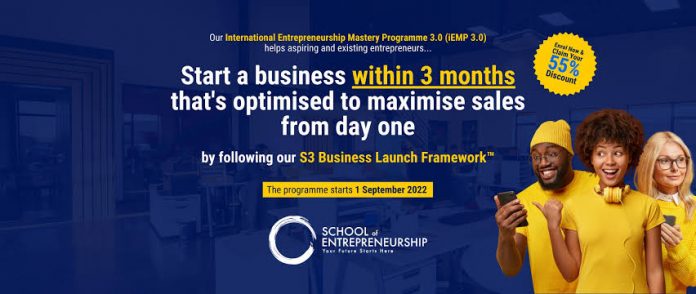 The School of Entrepreneurship is delighted to offer ABH community members the opportunity to enrol in their upcoming International Entrepreneurship Mastery Programme 3.0 (iEMP 3.0) for only $97 once-off (instead of $649) until 31 August at 3.00 PM (GMT).
The iEMP 3.0 is starting on September 1st and helps aspiring and existing entrepreneurs to start a new business or scale their existing business within 3 months by following their S3 Business Launch Framework™ under the guidance of accomplished entrepreneurs.
Students not only get 9 months of online coaching but also a roadmap to follow, tools to market their business online, a second year of mentoring plus lifetime access to their entrepreneur community where they can do referral marketing.
Learn more about the iEMP 3.0 and enrol for only $97 (once-off) on their website.
Benefits
✓ World-class coaching provided by a team of accomplished entrepreneurs.
✓ Comprehensive curriculum covering 50+ areas of modern entrepreneurship
✓ S3 Business Launch Framework™ offering a roadmap from SetUP to StartUP to ScaleUP
✓ Enneagram assessment and report debriefing with a certified Enneagram coach
✓ BONUS: Ongoing support through business sustainability mentoring once your business is up and running
✓ BONUS: Lifetime access to the SoE community and business directory
✓ BONUS: GrowthKit web marketing platform with all the tools you need to generate leads and sales online
Please note that this is an opportunity provided by an ABH Round 1 Judge but is not an ABH-affiliated program.