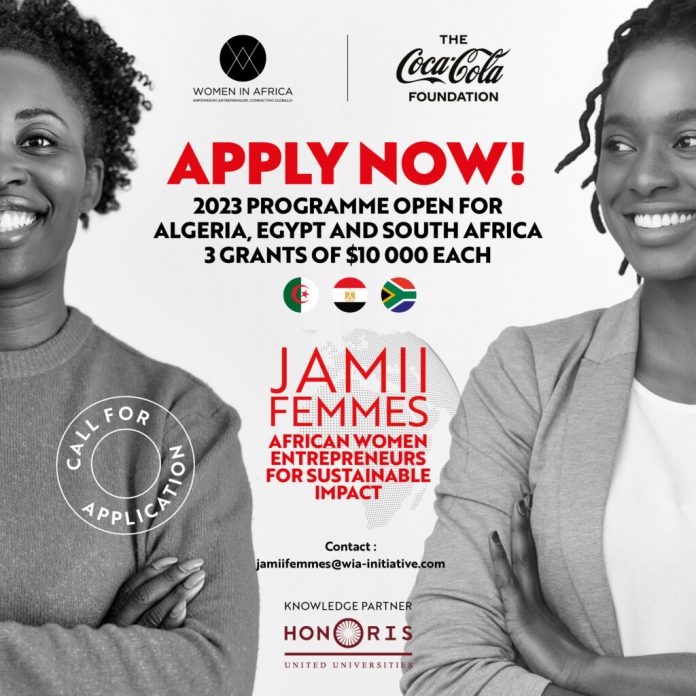 In 2022, the Coca-Cola Foundation and Women In Africa joined forces to support 20,000 African women entrepreneurs through the "JAMII Femmes" initiative.
Program
The JAMII Femmes initiative aims to increase the impact of African women entrepreneurs on the African economy and to support the creation of innovative solutions for sustainable development that will contribute to positive change in Africa by improving the quality of life for tens of thousands of people.
JAMII Femmes is a great opportunity to develop skills, access a grant and join a network of 7000 women.
Implementation of the program
For this second year, the Coca-Cola Foundation and Women In Africa are offering a multi-phase program to 7,000 women in three countries.
Phase 1
Education: access to the Honoris United Universities Certificate (cf curriculum) and masterclasses of experts for 7000 women
This program is inclusive and at the same time selective. That's why the Education Pillar, which is extremely important for women entrepreneurs, is open to both new and experienced women entrepreneurs. With this we also hope to create a community where experienced women entrepreneurs can also inspire those who start.
As the program progresses, the selection criteria will focus on entrepreneurial performance
Women Eligibility profile
Women over 18 years old
Countries: Algeria Egypt or South Africa
Impactful Entrepreneur or Business Idea aligned with UNESCO SDGs
Ability to take part in an online program (Device+ Internet connection + dedicated time)
Subject to completion of Phase 1 (certification)
Grants: access to grants ranging from $300 to $10,000* for the top 600 of 7,000 women

Acceleration: access to a face-to-face acceleration boot camp for the top 20 in each country. This boot camp will allow you to:

further strengthen your skills with experts, mentors
access the high-level network of WIA and its partners
access exclusive opportunities for bootcamp partners

Visibility: lifetime access to the WIA network, and thus to potential opportunities throughout Africa. And for the top 20, a dedicated communication campaign will be deployed by WIA and its partners.
*Winners of the $10,000 Awards will be selected from the top 60 based on their business performance and the jury's decision during the boot camp. The jury will be composed of WIA members, local partners, successful entrepreneur(s), and advisory board members.
The call for applications is open for women in Algeria, Egypt and South Africa!
If you are a woman of nationality or resident of one of these 3 countries: Algeria, Egypt, and South Africa, this program is for you!
Deadline: August 19, 2023