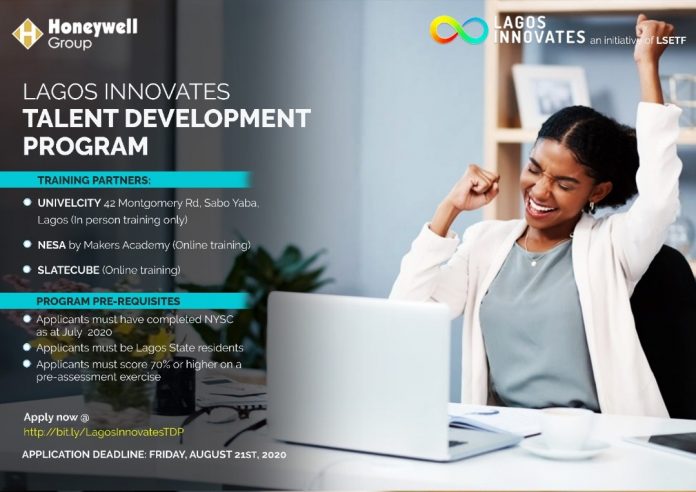 Lagos Innovates acknowledges that creating investor-ready startups is vital to the overall growth of the ecosystem. To help increase investability and ultimately survival rates of Lagos-based startups, Lagos Innovates in partnership with Honeywell Group is supporting capacity development by facilitating access to IDE- or tech-focused entrepreneurship content and programming.
The Lagos Innovates Talent Development Program aims to support Lagos developers and startup founders with access to high-quality skills and learning through programs that are relevant for building successful innovation- or tech-driven ventures. Eligible programs under this scheme include tech entrepreneurship, coding, software design and development, etc. This program is open to individuals interested in developing tech skills, freelancers, and founders at the proof of concept stage through seed stage. The application and allocation processes are transparent, competitive and merit-based.
The Talent Development Programme funds up to 80% of the cost of program attendance by the highest potential individuals (founders, developers or tech startup employees) active in the Lagos tech startup ecosystem through a student loan program. Please see attached guidelines
Eligibility Criteria
Applicants must be between the ages of 22 & 40
Applicants must have completed NYSC as at July 2020
Applicants must be Lagos residents
Lagos Innovates has partnered with the following training partners, and applicants can choose the training partner and course they are interested in.
Univelcity-  42 Montgomery Rd, Sabo Yaba,Lagos (In person Training only)
Courses offered at Univelcity:
Full Stack Development with JavaScript (React JS, NodeJs, Express and Mongo DB + API Development)
Full Stack Development for Mobile Applications (React Native, API Development)
Python Programming for Web and Data Science. (PYTHON OOP, DJANGO & Data Science)
Front end Design & Engineering: (UI/UX, HTML, CSS, ES6 & React JS)
Application link for Univelcity: https://bit.ly/UNIVELCITYxLSETFApplication
NESA by Makers Academy- (Online Training)
Courses offered at NESA:
Full Stack Development with JavaScript (React JS, NodeJs, Express and Mongo DB + API Development)
Application link for NESA  : bit.ly/NESAxLSETFApplication
Slatecube – (Online Training)
Courses offered at Slatecube :
  Full Stack Web Development
 Javascript Development
 Comprehensive Digital Marketing
 GIT and GITHUB for developers
Application link for Slatecube : https://www.slatecube.com/digitalskills/apply.
Get more details about the programme HERE