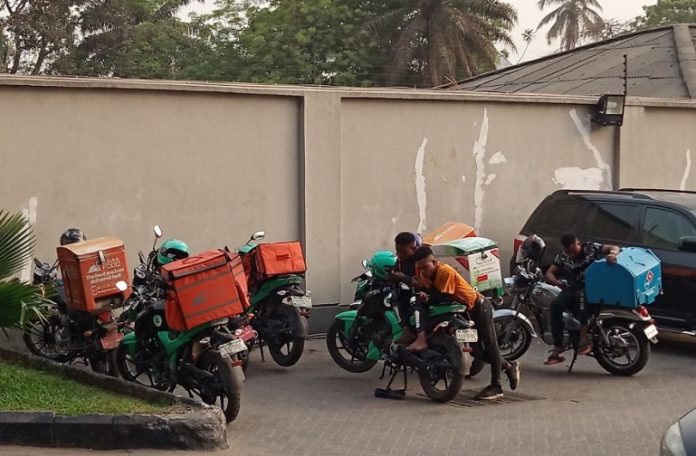 Delivery Companies in what they called "Delivery Service Shutdown" have embarked on a strike to protest what they termed "injustice" that they are facing in the hands of Lagos State "taskforce, council boys, MOT and other unnecessary papers." This was contained in a strike notice sighted by MSME Africa online.
The implication of this is that business owners especially MSMEs will face a lot of difficulties to get their   products delivered to customers' homes and offices from Monday following the decision by the delivery companies and dispatch riders to embark on the strike.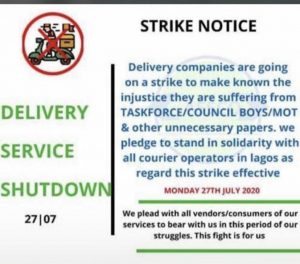 One of the operators of the delivery companies interviewed by MSME Africa Online lamented about the various harassment their dispatch riders experience every day. In her words "They are making life difficult for us and making it almost impossible to survive. Our riders are arrested, harassed and extorted everyday by Council boys and other Government officials for MOT and other papers too numerous to mention".
"They keep coming up with new levies every day and are always quick to impound our bikes". She added.
MSME Africa Online had earlier reported about a new regulation regulation by NIPOST categorised logistics companies into international, regional, state, municipal or intra-city, and SME operators. International operators are to pay ₦20 million as a license fee, national ₦10 million and regional operators ₦5 million. State, municipal and special SME operators are to pay ₦2 million, ₦1 million and ₦250,000 respectively. Each operator, irrespective of the category, will pay 40% of the license fee as renewal fee annually.
The new license fee attracted a lot of outrage from delivery and logistic companies operators and the general public.
The Minister of Communications and Digital Economy Minister,  Isa Ali Ibrahim Pantami, however stepped in on Saturday via a tweet and issued a directive for the new license fees announced by Nigeria Postal Service to be halted as it was not part of the regulation he approved for the Agency.
Many business owners reported that delivery companies have refused to pick up their items for delivery to customers because of the ongoing strike.