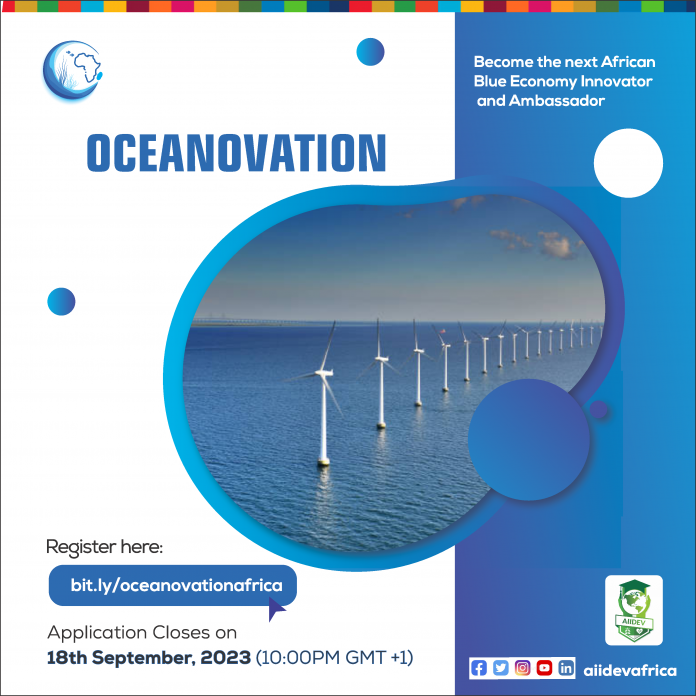 AIIDEV Africa is pleased to introduce Oceanovation, an ambitious and transformative
program aimed at driving innovation, sustainability, and community development within
the blue economy sectors. By offering advanced training, promoting research on blue
economy solutions, fostering community-based projects, and facilitating innovation
Bootcamp,  this program seeks to empower participants with the knowledge and skills
needed to contribute to the growth and prosperity of blue economy industries.
The goal of the program is to advance solutions for a sustainable blue economy in Africa.
This program aims to address both opportunities and challenges by equipping
participants with the skills to innovate and develop solutions that advance the blue
economy.
The Oceanovation Programme aims to harness these opportunities by fostering a
collaborative and innovative ecosystem that supports the development of sustainable and
economically viable solutions for various ocean-related challenges, by providing a
comprehensive platform for learning, research, and practical application.
NB: The Oceanovation Africa Programme will be conducted in English, and applicants
must have adequate knowledge of the language. Applications not submitted in English
will be disqualified. This program will be conducted in a hybrid format using various
learning pedagogy and communication platforms. Selected applicants will be onboard and
enrolled in the program starting on the 21st of September 2023.
Eligibility Criteria: To participate in this program, please note the following criteria
before proceeding with your application:
1. Applicants must be citizens of any African country between 21 and 35 years old.
2. Applicants must have a minimum of a bachelor's degree or equivalent in any field
relevant.
3. Applicants must have a genuine interest and passion for the blue economy and a desire
to contribute to the achievement of SDG 14 in Africa.
4. Fellows should demonstrate leadership potential and a strong commitment to making a positive impact in their respective countries and communities.
5. Fellows must be available to actively participate in the program, including attending training sessions, workshops, and community projects.
6. Applicants should have a good command of the English language, as the program
will be conducted in English.
7. Applicants should have access to a reliable internet connection and necessary
technology devices to fully participate in virtual activities and meetings.
Deadline: September 18, 2023, at 10:00 PM (WAT).
Click HERE To Apply
You are encouraged to complete and submit this form before the deadline!
The Oceanovation Africa Programme is a project of the Advance Initiative for International
Development – AIIDEV Africa