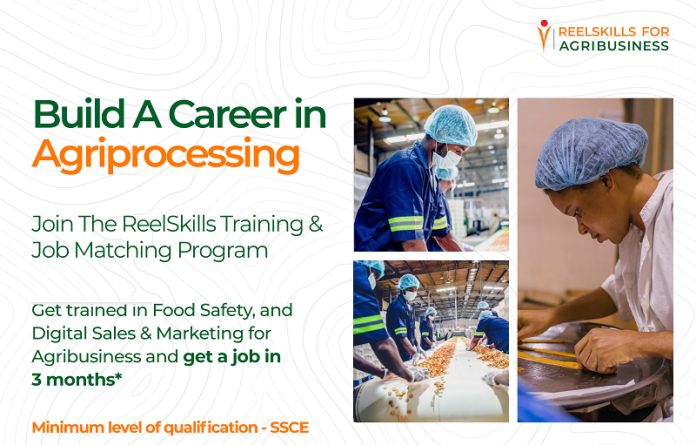 The ReelSkills for Agribusiness (R4A) is a training and job-matching project focused on equipping youth with real skills to succeed in careers in the Agri-processing sector in Nigeria. We will train 1000 youths (60% women) and match at least 800 of these to worthwhile jobs. Our target beneficiaries are 18 – 35 year olds with minimal work experience.
The 3-year project is funded by the Netherlands Government under the Challenge Fund for Youth Employment (CFYE) programme.
The ReelSkills project is designed to equip young people with real technical and soft skills demanded by SMEs within the Agri-processing sector in Nigeria. The project will go beyond equipping young people with these relevant skills to connecting them with decent jobs within the Agri-processing sector.
The training comes under two tracks :
Food Processing (courses include Food Safety & NAFDAC requirements)
Digital Sales & Marketing (courses include Customer Service & Social Selling)
Project Approach :
Shortlist candidates
Select young people to join the program
Train selected candidates
Match trained candidates to Agri-processing jobs
The training is free for all participants and raining would last for 1 week. For the Food Processing track, trainees will spend 2 days in the factory to enable them gain hands-on knowledge of working in the factory.
During and after the completion of your training, the ReelSkills team will work with you to prepare and connect you to job opportunities within the Agri-processing sector. The success of your placement is however greatly impacted by your personal commitment to learning and growth.
Get more information and apply HERE