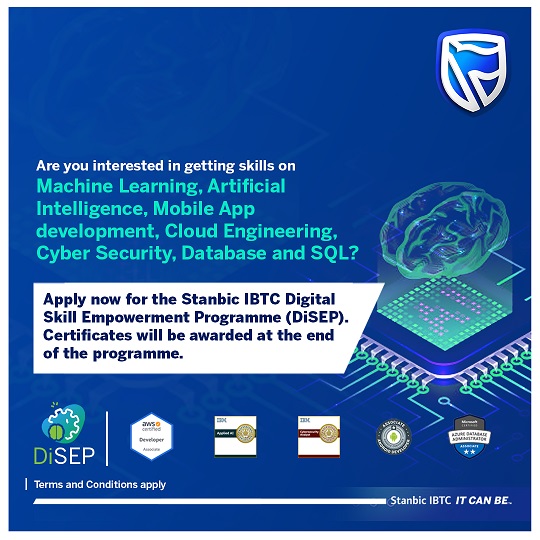 DiSEP is an intensive program and a unique opportunity for young people who are resourceful and passionate to develop required skills to build a fast-tracked career.
The program is an initiative to train eligible candidates with digital skills to build their capabilities and broaden their digital scope which will give them an edge in the employment market. Successful candidates will have the opportunity to prepare for and complete professional certifications.
Candidates who meet ALL of the following criteria are welcome to apply for DiSEP;
You are tech-savvy
You are interested in obtaining professional certifications in any of the following areas: Cyber Security, Cloud Engineering, Mobile App Development, Database and SQL, Artificial Intelligence or Machine Learning.
You will not be more than 28 years old by 01 October 2021
You have graduated with a minimum of Second Class Lower Division
You have a minimum of five credits (Mathematics and English inclusive) in WAEC, GCE, or NECO
You have concluded the compulsory NYSC and have discharge certificate in hand
You have an up to date functional laptop or device for your use during the program
You are not currently in employment
You can commit to fully participating in the entire duration of the program from October 2021 to January 2022
You can attend between 80 to 150 hours of live virtual training per month
You can commit to writing the professional certification in your required area of interest within the period specified after the virtual training program is completed.
Please note that as part of the selection process, shortlisted candidates will be required to pass an online pre-training assessment.
If you meet the above listed criteria and are interested in participating in this free developmental and certification program, please go ahead and register by filling all requested details in the application form in the next page.
Shortlisted candidates will be contacted shortly.
Get more details and Apply HERE