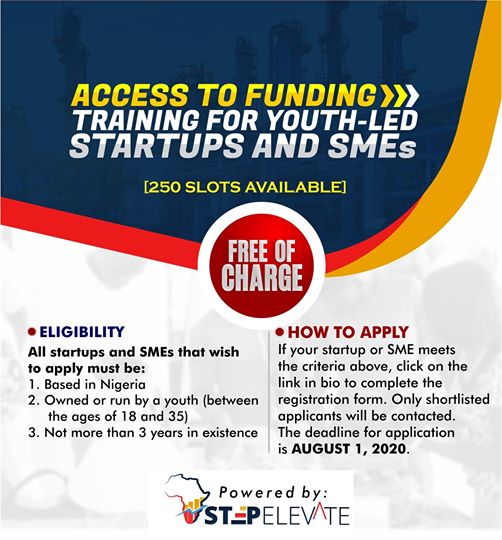 This is a free online cohort training programme organized by StepElevate to empower high-potential youth-led startups and SMEs in Nigeria with the tools that they will need to secure and leverage funding from fund providers such as banks, angel investors, venture capital (VC) firms, private equity (PE) firms and donors.
SMEs and Startups can take advantage of this unique, free opportunity to deepen your skills in financial and business management and improve your ability to attract funding .
This opportunity is available to a maximum of 250 high-potential, youth-led startups and SMEs based in Nigeria.
If your business meets the criteria for application, click on the link: https://forms.gle/gypJSTWCaQhwYaJx8
The deadline for application is August 1, 2020.
StepElevate is a digitally driven company that seeks to improve the ability of high-potential startups and SMEs in Africa to attract and leverage funding from banks, equity investors, donors & other fund providers, with a key focus on youth-led ventures.