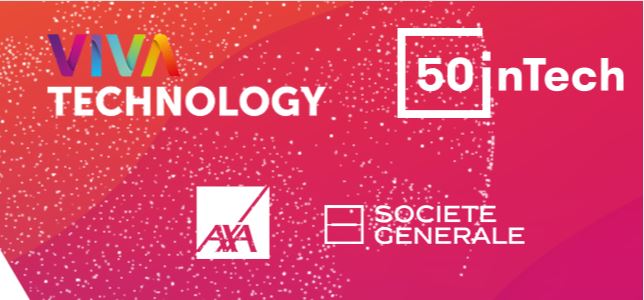 For the third year in a row, VivaTech, in partnership with 50inTech, launches the Female Founder Challenge (FFC) with two main objectives: (1) facilitate VC-startup meetings to accelerate the financing of women-led startups, (2) urge VC funds to commit to more gender equality at all levels.
About VivaTech: Viva Technology is Europe's biggest startup and tech event dedicated to the growth of startups, digital transformation and innovation.
About 50InTech: 50inTech is a professional community dedicated to improving the role of women in tech, by facilitating introductions to help grow their business and careers.
Why participate?
You are a female founder, co-founder, CEO or co-CEO of a global startup in the process of raising funds (be it seed, series A, B, C or beyond)? You don't have access to global investors or you lack investor connections? Apply to the Female Founder Challenge!
This Challenge offers you a unique opportunity to master your investor pitch, get exclusive access to investors and get a great visibility during an hybrid event open to a diverse audience.
The Challenge includes an online bootcamp on fundraising, 1:1 meetings with investors (Office Hours), a guided tour of VivaTech, an exclusive dinner with women executives, a pitch contest and an award ceremony.
Selection criteria
Innovation: Relevance, originality and innovation level of the tech solution compared to existing alternatives.
Scalability: Feasibility, realism and viability (technical, economic and environmental) of implementing the solution.
Team profile: Profile of the founder(s) and co-founder(s), ability to lead the project to success, hard and soft skills of the operational team.
Business model: Demonstrated traction and product-market fit
ALL Participants: Apply and access a free online bootcamp to master your fundraising campaign, From May 19 to May 20, the free and 100% online bootcamp to help women entrepreneurs become fundraising experts will be open exclusively to all FFC's participants. This accelerated online training is an ideal occasion to unlock a pool of untapped female tech talents.
Apply and take this opportunity to stand out from your competitors for your next VC rounds!
Application deadline: April 18
More details HERE