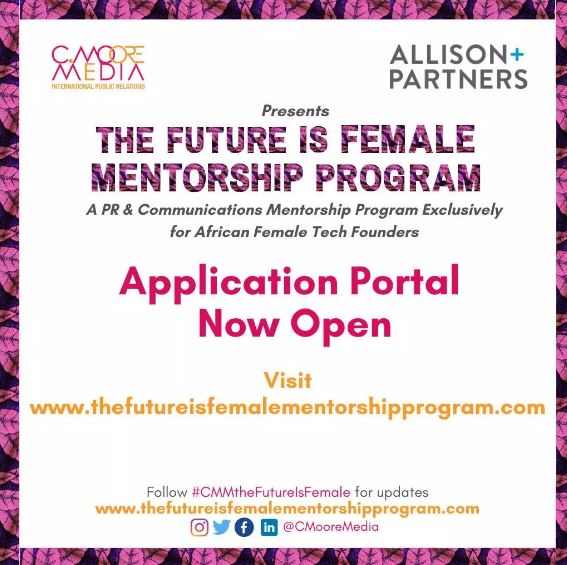 The Future is Female Mentorship Program is a  PR and communications program created exclusively for African female tech founders. It provides a  fantastic opportunity to learn how PR and communications can and will take your business to the next level in securing new investment, reaching new audiences, acquiring new customers, and forming new partnerships.
If you are a female-founded African tech start-up with a fantastic service or product and want to learn how to leverage PR and communications to elevate your growing company…this program is for you!
The program is delivered virtually, and the mentees are invited to participate in masterclasses and sessions customized to the specific needs of their sector and business. During the mentorship program, female founders will learn insights into the fundamentals of PR and communications for tech startups, including creating a communications plan, incorporating storytelling into your business communications with multiple stakeholders, and more.
During the selection process, special considerations will be given to startups that focus on health, education, finance, agriculture, and sustainability. In addition, startups that provide solutions and/or address African women's and girls' needs will also receive special consideration.
The fourth edition of this program introduces a new collaboration with Google for Startups Accelerator: Women Founders Program and Salesforce Venture Impact Fund who will host a session on VC funding for the selected female founders.
In addition to the longtime partners Techcabal and Africa Communications Week, the fourth edition promises to bring even more expertise, networking, knowledge and resources to the selected female founders from across the Continent.
Get more details and apply HERE