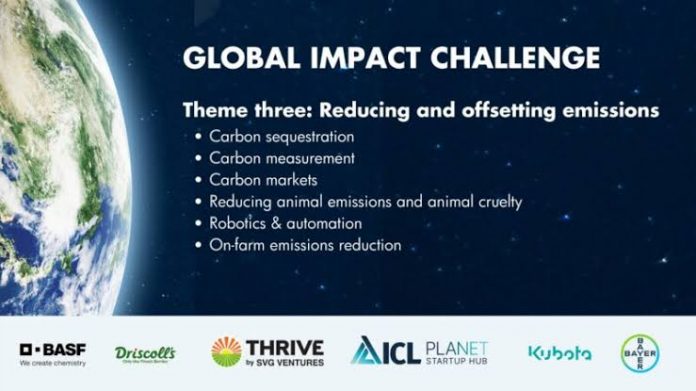 The THRIVE Global Impact Challenge is a global search for the most innovative startups who are advancing a more sustainable future for agriculture.
Aligned with the UN's Sustainable Development Goals, the Global Impact Challenge is focused on three key themes each one central to supporting the transition to a net-zero future for agriculture.
Challenge Themes
(1) Reducing and offsetting emissions
Carbon sequestration
Carbon measurement
Carbon markets
Reducing animal emissions and animal cruelty
Robotics & automation
On-farm emissions reduction
(2) Soil health & Biodiversity
Regenerative agriculture
Ag biotechnology
Alternative fertilizers
Alternative pesticides & herbicides
Crop nutrition & novel inputs
Biostimulants
Water management
(3) Increasing food security
Alternative proteins
Food loss prevention
Circular economy
Indoor farming
Supply chain solutions
Packaging
Functional Ingredients
Benefits
The Winning company receives the THRIVE Global Impact Challenge Award and a place on the award-winning THRIVE Global Accelerator Program in Silicon Valley. In addition the winner will also receive:
Investment from SVG Ventures
Silicon Valley Startup Bootcamp in the Summer of 2023 for two founders, hosted by THRIVE ($15k USD value)
Automatic acceptance as a Samsung XTC Finalist
Impact strategy program with Imagine Impact (Specialist Impact Consultants) Sponsored by ICL
Apply HERE. 
Deadline – August 26, 2022