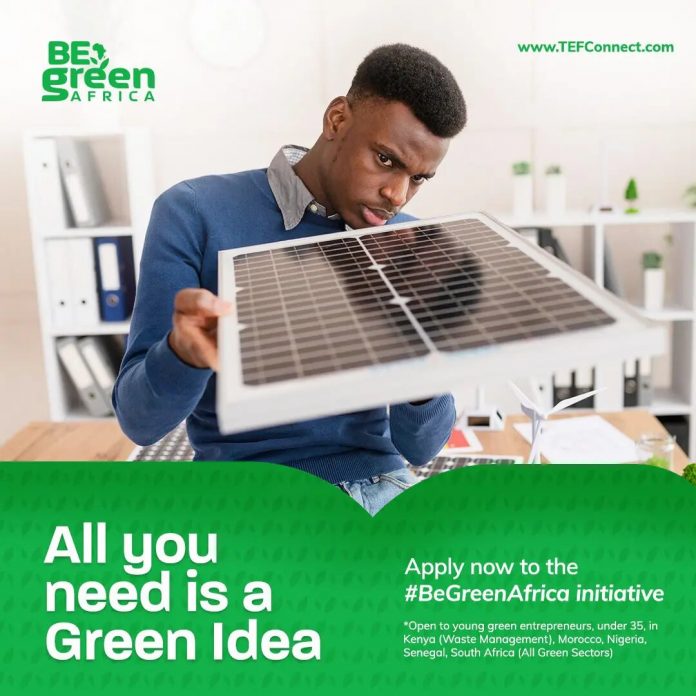 The Tony Elumelu Foundation launches a first-of-its-kind Green Entrepreneurship Programme to address African youth unemployment, in partnership with UNICEF Generation Unlimited (GenU) and IKEA Foundation.
BeGreen Africa is a green entrepreneurship pilot program co-created by The Tony Elumelu Foundation, UNICEF Generation Unlimited (GenU), IKEA Foundation, and young green entrepreneurs.
About the Tony Elumelu Foundation:
The Tony Elumelu Foundation is the leading philanthropy empowering a new generation of African entrepreneurs, driving poverty eradication, catalyzing job creation across all 54 African countries, and increasing women's economic empowerment. Since the launch of the TEF Entrepreneurship Programme in 2015, the Foundation has provided over 1.5 million young Africans with access to training on its digital hub, TEFConnect, and disbursed nearly USD$100 million in direct funding to 18,000 African women and men, who have collectively created over 400,000 direct and indirect jobs. The Foundation's mission is rooted in Africapitalism, which positions the private sector, and most importantly entrepreneurs, as the catalyst for the social and economic development of the African continent.
About UNICEF GEN-U:
Launched by the UN Secretary-General at the 2018 UN General Assembly, and anchored in UNICEF, Generation Unlimited is a leading global Public-Private-Youth Partnership, bringing together global organizations and leaders including Heads of State, CEOs, Heads of UN agencies, and civil society champions with young people to co-create and deliver innovative solutions on a global scale.
Generation Unlimited is on a mission to skill the world's 1.8 billion young people and connect them to opportunities for employment, entrepreneurship, and social impact.
About IKEA Foundation:
The IKEA Foundation is a strategic philanthropy that focuses its grant-making efforts on tackling the two biggest threats to children's futures: poverty and climate change. It currently grants more than €200 million per year to help improve family incomes and quality of life while protecting the planet from climate change. Since 2009, the IKEA Foundation has granted more than €1.8 billion to create a better future for children and their families.
In 2021 the Board of the IKEA Foundation decided to make an additional €1 billion available over the next five years to accelerate the reduction of Greenhouse Gas emissions. In 2023, IKEA Foundation has already provided more than € 31 Million in emergency funding.
Objectives
The key objective of this mission-aligned partnership is to create a holistic, sustainable, and youth-led green entrepreneurship initiative in the waste sector [in Kenya], and the green sector [in Nigeria, Morocco, Senegal, and South Africa], to advance marginalized youth's social and economic prosperity while addressing the triple planetary crisis by reducing inequalities, and creating sustainable livelihoods for themselves and their peers.
Eligibility
The application portal for BeGreen Africa is now open on TEFConnect, the Tony Elumelu Foundation's digital platform, to all waste management start-ups in Kenya, and green start-ups in Morocco, Nigeria, Senegal, and South Africa.
Benefits
The founding partners of BeGreen Africa will leverage their collective expertise, close relations with government, the private sector, and youth networks, and extensive field presence across Africa and in Kenya to:
a) develop green-focused curricula that address the gaps and capacity needs of the identified target youth,
b) engage expert trainers to deliver the training via www.TEFConnect.com,
c) facilitate mentor and alumni network connections, and
d) provide seed capital funding that will empower the identified entrepreneurs to kickstart, develop, and scale their green businesses.
In this pilot, #BeGreenAfrica aims to train 1,000 Kenyan youth in the waste management sector, and economically empower 120 of them, as well as empower 25 green sector entrepreneurs in Morocco, Nigeria, Senegal, and South Africa, all under the age of 35, with new or existing green businesses. The initiative will build evidence around youth entrepreneurship in high-impact green sectors, exploring how young entrepreneurs can contribute to circular economies and a sustained green revolution in Africa
Deadline: August 31, 2023.
Click HERE To Apply