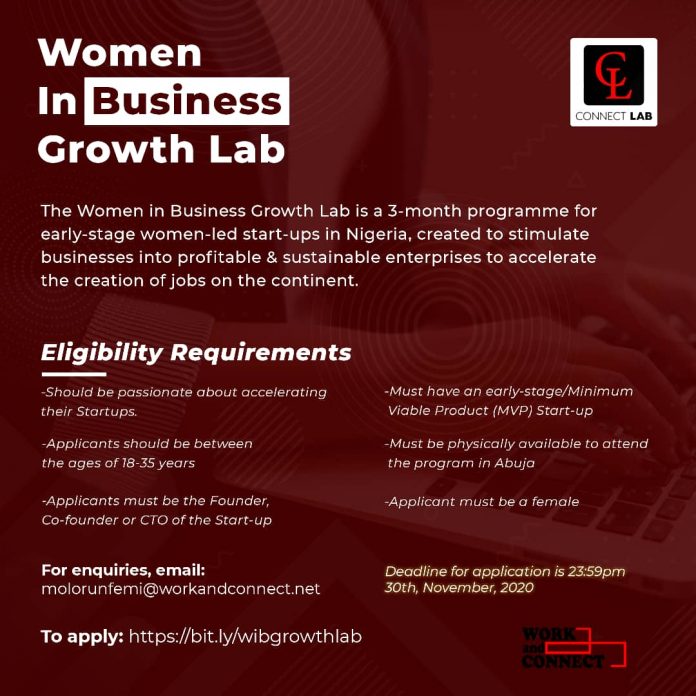 Applications for the Women in Business Growth Lab has been extended to Wednesday 30 December 2020, as the Connect Lab continues its search for tech-enabled women-led startups in Nigeria. At the end of the program, Connect Lab will be awarding a $1500 equity-free grant to one impact-driven startup.
Connect Lab, an African focused innovation lab has announced that it will work with Oracle for Startups for the Women in Business Growth Lab initiative.
The Women in Business Growth Lab is a 3-month entrepreneurship development program for female-led early-stage startups designed to reduce the inequalities and barriers affecting women in business by accelerating progress in gender equality through entrepreneurship development, linking and learning, and access to finance.
The project will support 40 female-led startups leveraging technology through the four program components; The Co-creation and Value Proposition Bootcamp, Incubation Programme, Women in Business Deal Day, and the Growth Mentorship Exchange.
This partnership reiterates Oracle's commitments to reaching startups and contributing to their evolution around the world through access to Oracle Cloud technology, mentoring and workshops, and business-enablement and support resources.
"Supporting diverse and underrepresented groups isn't just the right decision ethically, it's the right decision for advancing economic growth too", said Bayo Sanni, Managing Director, Oracle Nigeria. "Women entrepreneurs can prove to be catalysts for positive change, and technology can help realise their dreams. Our collaboration with Connect Lab will aim to achieve exactly this."
Through this partnership, Oracle for Startups will be supporting tech-enabled businesses in the Women in Business Growth Lab with;
Free Oracle Cloud Credit worth $500 with an opportunity to apply for more.
Mentoring and Virtual Resources
Migration assistance and technical support
Qualifying startups can level-up and access the company's marketing, customer and product ecosystems to further boost their business.
If you are a female-led startup founder, looking to grow and scale, please apply via this link.
For inquiries or additional information, contact Mercy at molorunfemi@workandconnect.net.
Connect Lab is focused on developing the next generation of youth-led ventures and impact-driven social enterprises, supporting the development of the African innovation and entrepreneurship ecosystem through entrepreneurship development, policy advocacy, and startup investment.