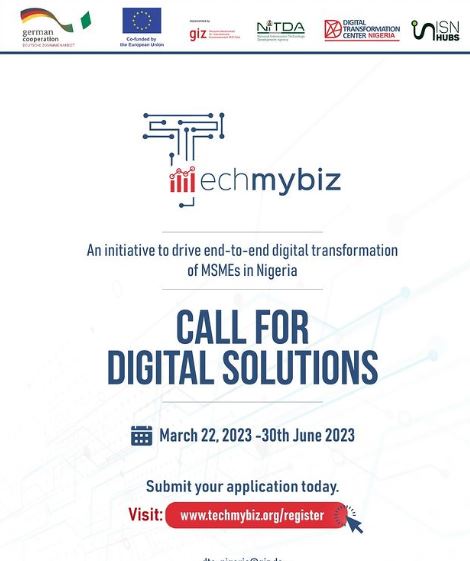 TechMyBiz is calling on all innovators and creators of digital solutions. TechMyBiz is a ground-breaking digital transformation process seeking innovative, home-grown digital solutions targeted at MSMEs.
TechMyBiz is an initiative of GIZ/Digital Transformation Center Nigeria (DTC Nigeria), which is jointly funded by the European Union (EU) and the German Federal Ministry for Economic Cooperation and Development (BMZ) and is implemented by Deutsche Gesellschaft fuer Internationale Zusammenarbeit (GIZ) GmbH.
Techmybiz is an end-to-end digital transformation process implemented with the Innovation Support Network (ISN) and it specifically aims to identify and showcase digital solutions developed by Nigerian innovators that are targeted at MSMEs.
You can unlock unparalleled growth opportunities and revolutionize businesses with your tailored solutions by joining TechMyBiz.
For more information on the programme, and to apply, click HERE
Application closes on June 30,2023