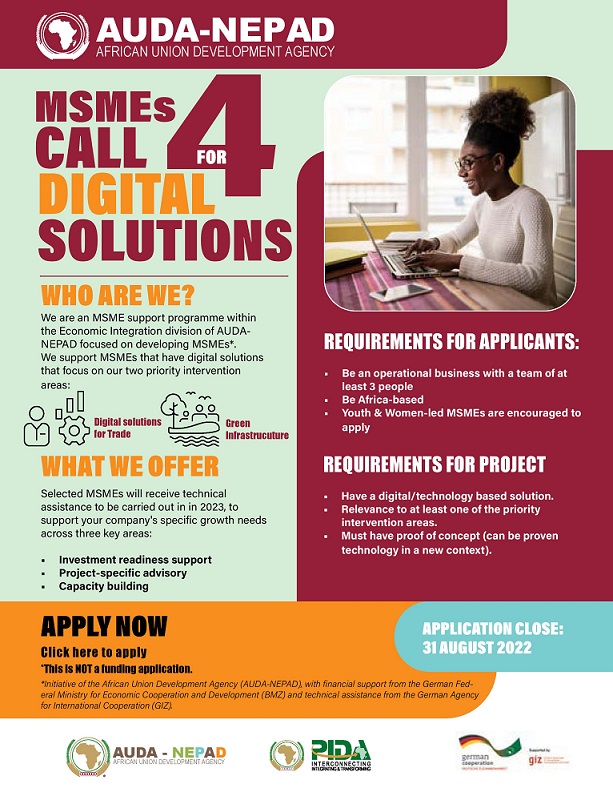 The African Union Development Agency (AUDA-NEPAD), in collaboration with Deutsche Gesellschaft für Internationale Zusammenarbeit (GIZ), announces the Call for MSME-led Digital Solutions.
The Call for MSME-led Digital Solutions, is a support programme within the Economic Integration division of AUDA-NEPAD, supported by the GIZ Project Green Infrastructure Corridors for intra-African Trade (Support to Pida), which seeks to provide business development advisory to MSMEs in the green infrastructure and trade domains.
MSMEs looking for business development support to launch or scale a digital solution for green infrastructure and/or trade are encouraged to apply. Applications close on 31 August 2022.
The main purpose of this support programme is to empower 10 MSMEs by helping them develop sustainable businesses through tailored technical assistance. This is part of AUDA-NEPAD's umbrella programme 100 000 MSMEs Initiative, which seeks to support MSMEs throughout Africa with training on entrepreneurial and business skills, while establishing networks for support and incubation to bolster their success.
In its previous call for proposals, AUDA-NEPAD received over 60 applications, from which four MSMEs were selected, some of which were able to mobilise financial support through AUDA/GIZ support process. This year, we are aiming to support up to 10 MSMEs.
No direct funding is granted through this programme, but MSME leaders are helped to develop a more holistic view of their business's financial trajectory and to understand how to mobilise funding themselves. The selected MSMEs will work closely with our team to design and deliver a customised technical assistance programme, which will be carried out in 2023 to support specific growth needs across three key areas, namely: investment readiness support, business-specific advisory and capacity building.
The technical support will take place over a period of between 3 to 12 months, depending on each of the selected MSME's individual requirements.
For their applications to be considered, the MSMEs will have to meet the following criteria:
Be at least an early-stage business (mature MSMEs are welcome to apply)
Be an African business
The MSME must have a digital/tech-based business idea ("digital solution")
The digital solution must focus on trade and/or green infrastructure
Details on the above are available on our website. Apply here.
Applications close: 31 August 2022 (23:59 UTC)