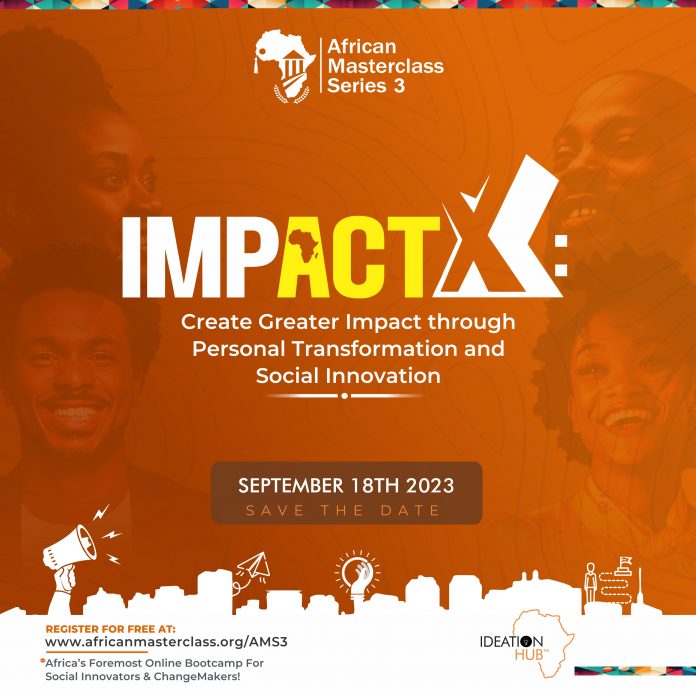 Ideation Hub Africa is excited to announce that the African Masterclass Series is back and this third edition kicks off on Monday, 18th September 2023.
The African Masterclass Series III is themed- "ImpactX: Create Greater Impact through Personal Transformation and Social Innovation". It is a 3-week virtual learning immersion with 6 Social Innovation Modules, to equip you and your team members with competencies for creating more significant impact through a combustive intersection of personal transformation and social innovation.
Are you ready to acquire more knowledge and transformational value that can quickly upskill your ability to achieve more impact? The African Masterclass Series is an immersive learning series that is educative, empowering, transformational, and unique for all social innovators, changemakers, social entrepreneurs, CSO actors, development practitioners, public sector professionals, nation-building enthusiasts, policy shapers, NGO leaders, and all impact-driven individuals like you!
It will feature social innovators and changemakers from the different pillar competencies across the SDG themes who are creating real-time impact through their work in the African context. Supporting Resources are also provided.
Benefits
📌To gain invaluable knowledge and strategies for driving transformational change and social impact across nations.
📌Connect with like-minded individuals passionate about social impact.
📌 Learn from inspiring guest mentors and thought leaders.
📌 Access actionable insights to fuel your projects and initiatives. 
📌Join a community committed to making a positive difference and driving sustainable development in Africa.
 AMS is FREE:
Guess what? AMS 3 is free! All you need to do is to register HERE Now take advantage! Also share the link with your colleagues, ecosystem, organizations, and sphere of influence.
Write to info@ideationhubafrica.org for enquiries, support, or sponsorship.