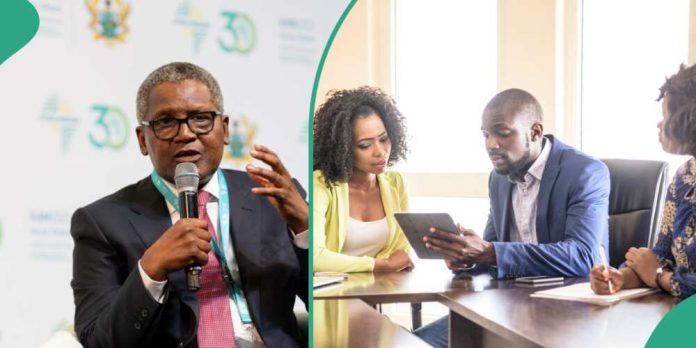 Aliko Dangote, the renowned president and chief executive officer of the Dangote Group, has introduced an extraordinary fellowship initiative designed to nurture potential leaders from Small and Medium Enterprises (SMEs) and non-business entities, enabling them to become part of the influential Young Global Leaders Community.
The Young Global Leaders program serves as a catalyst for a dynamic community of outstanding young individuals who possess the vision, courage, and influence to instigate positive global change.
This initiative seamlessly aligns with Dangote's vision for an Africa where its people are not only healthier and better educated but also more empowered through expanded opportunities for social transformation and strategic investments that bolster health, education, and empowerment.
In this endeavor, the Aliko Dangote Foundation (ADF) has collaborated with the forum to establish the Aliko Dangote African Fellowship program. This program aims to ensure the active participation of young African leaders from SMEs and non-business entities who might otherwise lack access to the Forum's Young Global Leaders Community.
The fellowship goes above and beyond by covering the expenses of their participation in World Economic Forum and YGL-led events for a substantial six-year period for each Fellow.
Zouera Youssoufou, the Managing Director/CEO of the Aliko Dangote Foundation (ADF), extended her gratitude to Dangote for his unwavering support of the YGLs. She assured him that his investment is yielding significant results, as the young global leaders continue to make remarkable strides in their respective fields, living up to the expectations of being true African future leaders.
Dangote, ever the visionary, encouraged the YGLs to persevere in their respective fields, emphasizing that setbacks are an inevitable part of the journey. He urged them to continue raising their ambitions for our continent, asserting that "Nothing is Impossible."
Fatima Aliko Dangote, Executive Director of Dangote Industries, expressed pride in the diversity and notable representation of female fellows in the 2023 Cohort. Among the nine chosen YGLs, there is a strong representation from various sectors including media/arts/entertainment, technology & innovation, health, and government.
The ADF-YGL Lagos Convening, held on September 8th, provided an exceptional platform for current and alumni YGL Africa Fellows to engage with their patron, Alhaji Aliko Dangote, at the site of his most ambitious project to date; the multi-billion-dollar Petroleum complex at Lekki. Following a tour of the fertilizer and refinery complex, the impressed alumni hailed Dangote as "the best hope for Africa."
Victor Ochen, Aliko Dangote YGL alum and executive director of the African Youth Initiative Network, expressed immense admiration for Dangote's investments in Nigeria and Africa. He praised Dangote's generosity in providing financial support, enabling many young African leaders to participate in YGL events and contribute actively to the continent's progress.
Through the Aliko Dangote (WEF Africa YGL) Fellows program, now in its 12th year, Dangote continues to empower a diverse array of leaders to represent Africa on the global stage. This partnership ensures a robust African perspective, fostering impactful contributions and ensuring that all voices are heard in global decision-making.
With this initiative, Aliko Dangote is not only investing in individuals but also in the collective future of Africa, solidifying his legacy as a visionary and philanthropic leader.