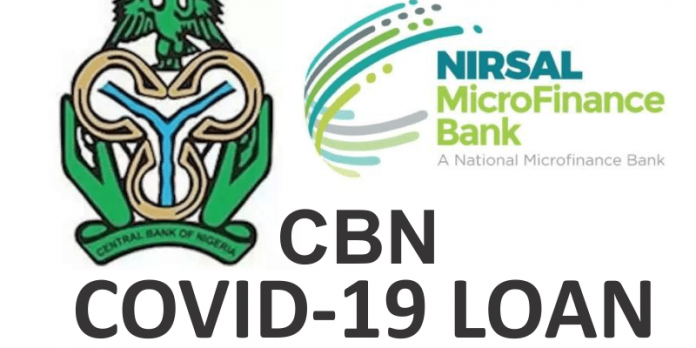 Some individuals who already have the COVID-19 Targeted Credit Facility of the Central Bank of Nigeria being disbursed into their bank accounts through the NIRSAL Micro Finance Bank have shared their experiences. They have also commended the Central Bank of Nigeria for making true its promise of disbursing the fund.
The CBN had introduced the N50bn Targeted Credit Facility as a stimulus package to support households and Micro, Small and Medium Enterprises affected by the COVID-19 pandemic. The N50bn intervention is financed from the Micro, Small and Medium Enterprises Development Fund. The loan amount is determined based on the activity, cash flow and industry size of the beneficiary, subject to a maximum of N25m for SMEs. Households with verifiable evidence of livelihood adversely impacted by COVID-19 can access the loan to a maximum of N3m.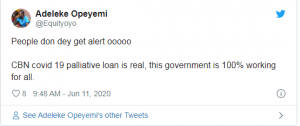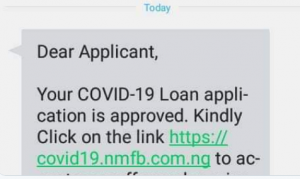 A beneficiary, Simon Iorgba @SimonIorba wrote on Twitter "I just received mine now. Thank God. 425k. I'm back to Agriculture 100%".
Another twitter user, Adeleke Opeyemi @Equityoyo wrote "People don dey get alert oooo. CBN Covid 19 palliative loan is real, this government is 100% working for all.




Tayo @teewhizzle wrote "If you need the CBN Covid-19 palliative for your business, go and apply,Someone I know got his yesterday'
However, Oladejo Taofeek @taofeekoladejo who tweeted at NIRSAL MFB wrote " Please I have accepted my household Covid 19 loan offer since 10th of June but till now I haven't received the money in my bank account and CBN said we should expect the money within 48 hours'
The Central Bank of Nigeria (CBN) has announced last week via that provision of guarantors would no more be a requirement for households and SMEs applying for the N50 billion COVID-19 Targeted Credit Facility to access the credit facility.The CBN also stated that  successful Household and SME applicants who have submitted their account details for the CBN N50bn COVID-19 Targeted Credit Facility should expect their accounts to be credited within 48 hours of such submission.