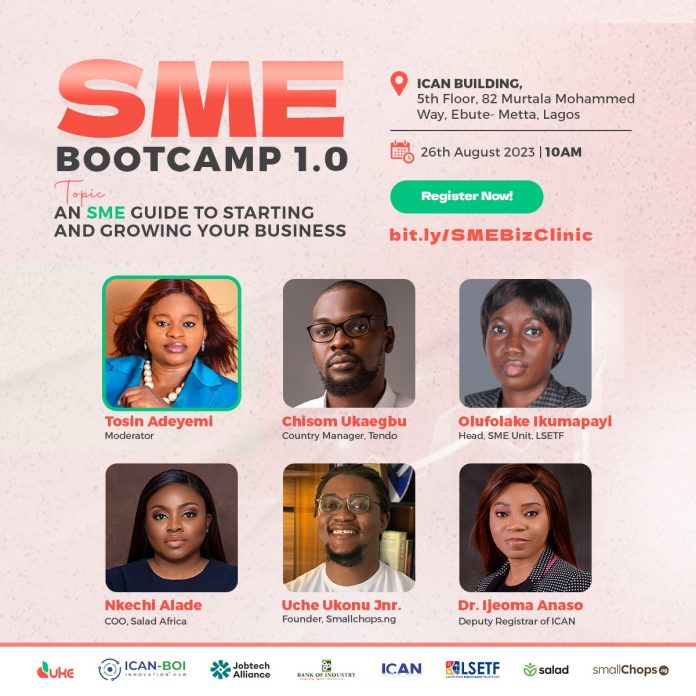 Lagos, the economic capital of Nigeria is a hub for small and medium enterprises (SMEs) in Nigeria and is a landscape laden with sudden changes, overregulation & most times lack of technical know how in naviagting hurdles. 
The SME Bootcamp 1.0 Initiative aims to fix the burdens with running a new or existing business in Lagos Nigeria by equipping new and existing business owners with the right resources and opportunities to stay afloat in an ever-competitive marketplace.
Duke Sell, in collaboration with ICANBOI, the Lagos State Employment Trust Fund (LSETF), Institute of Chartered Accountants of Nigeria (ICAN) and the Bank of Industry (BOI), Jobtech Alliance, and Salad Africa will gather a new generation of SMEs to equip entrepreneurs &  business owners with the knowledge, training, and opportunities to grow and scale their businesses. 
The bootcamp is  themed "An SME Guide to Starting and Growing Your Business" which will be held at the ICANBOI Innovation Hub situated in the heart of Yaba, Lagos
The Bootcamp provides participants, new and existing business owners with the opportunity to access training, resources and opportunities needed to reduce the barriers to starting and growing a business as an entrepreneur in Lagos. 
Date: August 26th 2023 (Saturday)
Time: 10 am 
Venue: ICANBOI Innovation Hub 5th Floor, 82 Murtala Mohammed Way, Ebute- Metta, Lagos 
WHY ATTEND?
Access to trainings and opportunities for scaling

Access to potential Funding and resources 
Access to a dynamic network of individuals and organizations
The bootcamp is FREE!, Visit bit.ly/SMEBizClinic to secure a seat. Registration is mandatory.
About Us 
Dukesell : Duke is a reselling platform that enables anyone to start an online business with no capital or inventory. We do this by providing the infrastructure, inventory, and know-how, thereby reducing the barrier to entry to starting a business today.
ICAN-BOI Innovation Hub : ICAN-BOI is a platform to actualize the growing focus on technology and skills acquisition through entrepreneurship empowerment. It is on a mission to be a nexus for tech talent and innovation, including students, academia, innovators, venture capitalists, and economic development experts.
Lagos State Employment Trust Fund (LSETF) : The Lagos State Employment Trust Fund (LSETF) was established by The Lagos State Employment Trust Fund Law 2016 to provide financial support to residents of Lagos State, to tackle unemployment through job and wealth creation.
Institute of Chartered Accountants of Nigeria (ICAN): The Institute of Chartered Accountants of Nigeria is Nigeria's professional accountancy body. It is one of the two professional accountancy associations with the regulatory authority in Nigeria,
Through its technical knowledge, skills, and expertise, it provides insight and leadership to the global accountancy and finance profession.
Bank of Industry(BOI) : The Bank of Industry is Nigeria's foremost development financial institution (DFI) with the mandate to transform Nigeria's industrial sector by providing financial assistance for the establishment of large, medium, and small enterprises; as well as to drive expansion, diversification, and modernization. A mandate aimed towards supporting projects with potential developmental impact. 
Jobtech Alliance: The Jobtech Alliance is an ecosystem-building initiative around inclusive jobs in Africa interested in connecting people to work opportunities that build livelihoods through an enabling environment which provides the conditions for entrepreneurs to build platforms which deliver quality livelihoods.
Salad Africa : Salad is building solutions to transform Africa's workforce by contributing to a society of financially-secure people who live better and more optimized lives. Salad Africa partners with employers to give their employees access to a portion of their earned salaries before payday so urgent needs can now be met with ease which is the first step in a journey to financial wellness and freedom.