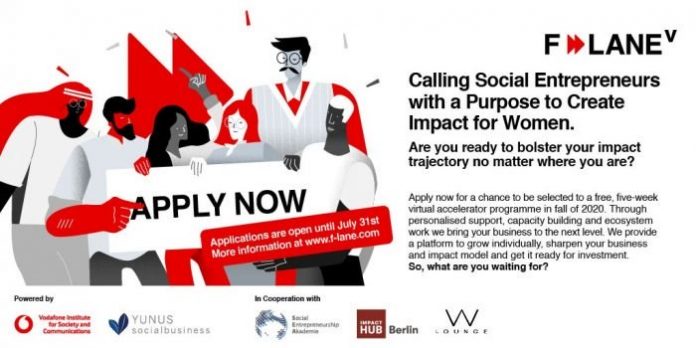 F-LANE is a five-week virtual acceleration program for early-stage entrepreneurs with ambitious outcomes to drive change by empowering women. It is put into practice by the Vodafone Institute in cooperation with Yunus Social Business. Yunus Social Business was founded by Nobel Peace Prize Laureate Muhammad Yunus and has successfully implemented just shy of 20 accelerator programs. These programs tap into their global community of over 300 experienced and renowned mentors to help entrepreneurs deliver consistent impact and their professional dreams.
Together, we aim to work by your side to deliver impact in the shortest time possible, give you the tools you need to live to your highest potential and amplify your voice along the way. We work side by side with our ventures to help them live to their highest potential and impact.
Tailor-made program
Through personalised support, capacity building and ecosystem work – we maximise your potential and bring your business to the next level. Five weeks of acceleration will provide a platform to grow individually, sharpen your business and impact model and get it ready for investment.
The program will run virtually for five weeks from early September until late October. Keeping in mind entrepreneur's busy time, our program weeks will contain 3 days of content and there will be a break of several weeks in between to allow time for FLANE inputs to be digested and implemented by the teams. This way, we hope to bring the best of both worlds by combining the experience and excellence from on-site programs with the flexibility of a remote setup.
The application process will open in June and close on the 31st of July.
Connect with Mentors
You will have a dedicated Vodafone mentor throughout the program who will be as fired up about your business as you are, offering you advice and acting as your counterpart to discuss the tough decisions you face. You will also have access to top-notch international experts that will help you on specific topics (e.g. product, investment, tech etc.).
Build Impact Remotely
Bolster your impact trajectory no matter where you are. There is no limit to location. All you need is an internet connection to engage in our accelerator program and participate in virtual networking events.
Join a Community
Unite under a common vision and collaborate with other talented founders. Engage in purposeful cross-sector conversations with peers and experts to take your company, but also yourself as a founder to the new level. As a team leader, you will see the importance of nurturing a community inside your own company.
Access to Investors
We personally introduce you to potential business partners and valuable investors throughout the program.
Make It Yours
After individually assessing where and how we can best help you get to the next stage of your venture's life, we set up a curriculum, 1-1 mentoring and key virtual experiences to help YOU work on your business.
Join the Impact Ecosystem
Join the YSB global impact community, founded by Nobel Peace Prize Laureate Muhammed Yunus. Additionally, you will have access to the Impact Hub community that contains +15 000 social innovators as well as to the Social Entrepreneurship Akademie.
A Partner like No Other
You will have the unique opportunity to work with and be connected to Vodafone Germany and the wider Vodafone family.
It's On Us
The program is free of charge and no equity is taken!
See more about this Program HERE 
Apply for the Program HERE