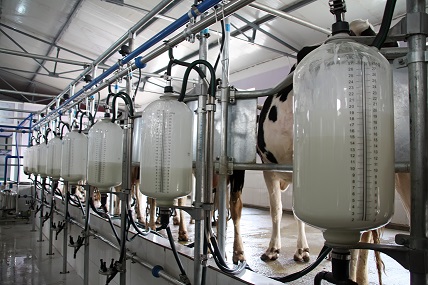 Fan Milk has disclosed its intention to develop a world-class dairy farm and technical institute at the Odeda Farm Institute, bringing the expertise of its parent company, Danone, to the fore.
Danone is a world class, leading food and beverage company with recognized expertise in Fresh Dairy Products in over 120 markets worldwide, including in Africa: Morocco, Algeria, South Africa and Egypt and also, through joint ventures with local partners, Kenya, Uganda & Tanzania (Brookside) and Tunisia (Stial/Delice Danone).
Within this project the Company also intends to develop a technical institute to train local dairy farmers and improve their skills. The Company will leverage the key learnings for piloting its project in Nigeria with Danone's business expertise, which spans over 100 years being actively involved in the dairy value chain with great success.
Fan Milk Plc is embarking on this project in partnership with the Ogun State Government, through its Ministry of Agriculture, intends to kick off a dairy backwards integration project for the improvement of the State's agricultural value chain and enhancement of local dairy production.
Fan Milk is planning to develop a flagship dairy farm (including pasture development and the launch of a Danone training institute for local farmers) within the Odeda Farm Institute in the Odeda Local Government Area of Ogun State
Fan Milk Plc. is one of Nigeria's leading fast-moving consumer goods companies offering healthy and nutritious dairy food products. A heritage company, Fan Milk has been manufacturing ice cream, frozen dairy and ambient drinks in Nigeria and West Africa for nearly 60 years.
Fan Milk intends to embark on this project to contribute to the Central Bank of Nigeria's backward integration program for the improvement of local milk production and to support the Federal Government's economy recovery growth plan which aims to improve food self-sufficiency in the country.
The Company's Managing Director, Mr Ferdinand Mouko stated that this partnership falls in line with the Company's business development strategy and as a responsible corporate citizen, the Company is committed to advancing its business in a socially and economically beneficial manner:
"Our objective is to ensure that we partner with local dairy farmers in communities within Ogun State to accelerate the development and expansion of the local dairy market while also creating the social and economic impact of improving the livelihood of the ecosystem within which we operate."
Mr Olayinka Akinkugbe the Chairman of the Board added that the intention to partner with Ogun State followed the Company's close observation of the laudable efforts the Ogun State Government has put into supporting and partnering with local and foreign investors. Hence the partnership with the Ogun State to harness the social and economic potentials of participating in local dairy production.
The Company states that it is confident that its dairy backward integration plan will create social impact by supporting the dairy farmers in Ogun State as it leverages the Government's support and the relevant experience Danone has developed along its journey in Africa.